Watching a baseball game from right behind home plate. Experiencing the visual thrill of skiing down a steep mountain trail. Selecting any angle to view the March Madness instant replay. These are just a few of the current offerings of Intel's immersive media technologies, which make it possible for at-home spectators to feel like they're at the game — only better.
Now imagine training under the world's best and brightest surgeons, watching as they operate — from their eyes or sitting on your couch talking with family across the world, but actually feeling like they're sitting next to you. Immersive media technology is making it happen.
Virtual reality adds a different layer to traditional technology — one with emotion, feeling and understanding. It is really an "empathetic engine" in that it takes users to a new level of understanding an experience through another person's point of view.
Now, immersive media is poised to build on that level of empathy and catapult users to the forefront of control by providing them with the ability to interact with absolutely any form of content.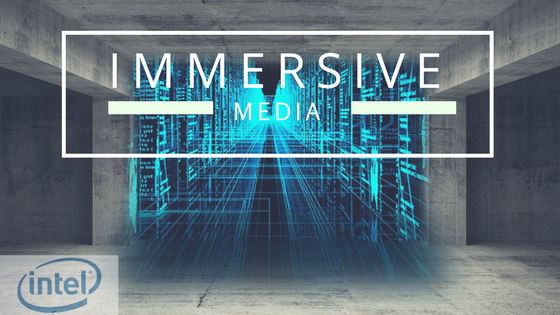 "If someone is creating content, they consider creating in an immersive media format," says Sandra Lopez, VP of Intel Sports Group, who is at the forefront of this new experience.
In order to better visualize the impact immersive media technology will have on user experience, Lopez recalls the first computers of the early 1990s. These were behemoth pieces of equipment that monopolized your entire desk space. Over time, the desktop computer evolved into the laptop, and then your smartphone — each stride better compacting the bits and pieces needed, but with the same (if not more) functionality.
Immersive media has the potential to eliminate geographical boundaries in a way that heightens the social aspect of technology. But who will interact with this form of media? "Someone who is curious to experience that feeling," says Lopez.
According to Lopez, there's no gender, or even age, bias. As with any new technology, the main factor will be a person's openness and attitude to new tech forms.
When thinking about major adopters, though, Lopez looks at "Generation i", those who have grown up interacting with the iPhone (or any other smart device for that matter). This immersive and tangible generation is already interacting with touchscreens—it's part of their "DNA," Sandra notes, while thinking about her young daughter. As this generation grows, they'll want more capabilities—they'll want to interact with content on a deeper level, beyond apps.
Intel aims to provide these deeper levels of content interaction for users with immersive tech media and has already made strides in the field.
Back in January, Brian Krzanich introduced this concept in his CES Keynote speech. The technology builds on the recent VR True View experience in which film is recorded once with infinite viewpoints using many cameras.
Examples of this viewing form in action occurred during the Winter Olympics in Pyeongchang, the Super Bowl and most recently March Madness, where users were able to select their viewing perspectives, in addition to watching 360-degree replays. As we enter baseball season, Intel has also partnered with the MLB to bring True VR to fans, allowing them to customize how they view the game. Do you want to hang out behind home plate and watch the pitches come in, or maybe sit above the dugout? Either way, it's possible for you.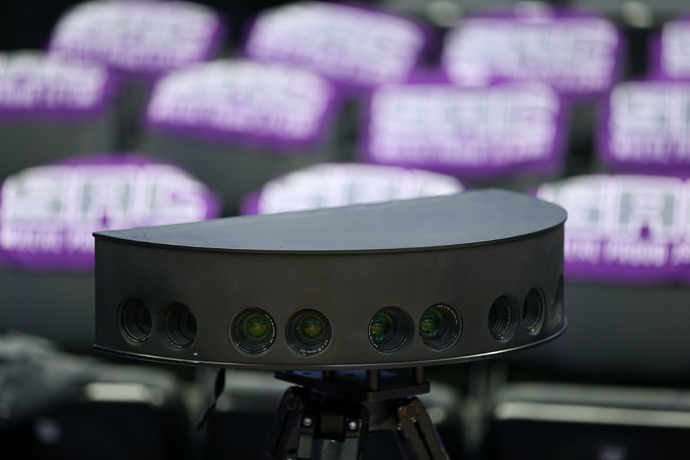 Intel True VR cameras capture game footage from all angles to bring fans courtside at marquee matchups on NBA on TNT. Source: Intel Corporation
The fascinating point worth mentioning is that, contrary to what one might think, there are no cameras in the helmets of any of the athletes. Instead, scenes are shot once and then viewed from any point.
To further bring that concept to life, Intel opened Intel Studios in the heart of Los Angeles. The 25,000 square-foot studio consists of a 10,000 square-foot volumetric capture area, 5.1 miles of fiber cables, 10 Petabytes of storage, more computer power than I can type here, and 1 billion points of light that capture motion performance in three dimensions.
For movie viewers, this means getting closer to the actors and scenes, as Krzanich revealed in the Western fight-scene he showed off at CES.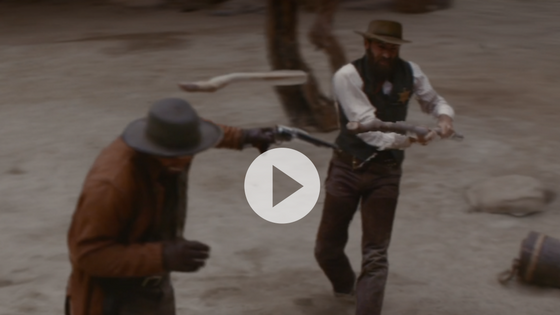 Caption: Watch the Western scene here.
Lopez notes that going forward, "people will want a personal experience" and the new technology gives them a choice in perspective, as well as allowing them to enter the content via different entry points.
"Stories are no longer linear," she points out.
How does Intel bring this vision to life?
"We don't predict the future, we build it," Lopez proudly recites Intel's famous saying. In order to bring immersive media to users, the company partners with others. For example, in order to bring capture technology where it needs to be, it will work with companies that produce the hardware for this aspect (in terms of cameras, lenses, and high-resolution).
While much of the engineering is done in-house, it's vital for Intel to look to the major industry players and partner up to create an end-to-end user experience — for example, working with a hardware company to develop the ideal lenses for such an experience. The company partnered with Microsoft to deliver mixed reality experiences and Intel-powered Windows Mixed Reality to allow further immersion for users.
Everything is connected — and if it isn't — it will be soon. Let's recall Krzanich's statement from his CES speech, reporting that autonomous cars will produce 4TB of data per day. Intel's role is to provide the understanding and analysis behind all of that data.
A major role the company plays in the explosion of new media technology is examining data. The company is dedicated to "driving a better world" by gaining insight from the data collected from all of our connected "things" and transforming it into knowledge and wisdom.
The Question of the Headset
Along with virtual reality hype comes the giant elephant in the room: the clunky headset. While the technology has the ability to transport users to places they've never been, it has been associated with some negative side-effects such as nausea and headaches, primarily due to the disconnect between brain and body that interferes with equilibrium. While it doesn't happen to everyone, it does happen, and there could be light at the end of that tunnel.
According to Lopez, this limitation is something Intel, and the industry in general, will improve on.
"The headset is a barrier," she admits, and will "need to evolve for the market to grow."
It is anticipated that eventually we'll be living in a world of immersive media that does not require headsets to view, due to glasses or screen technology evolution and improvements.
A Door to Something New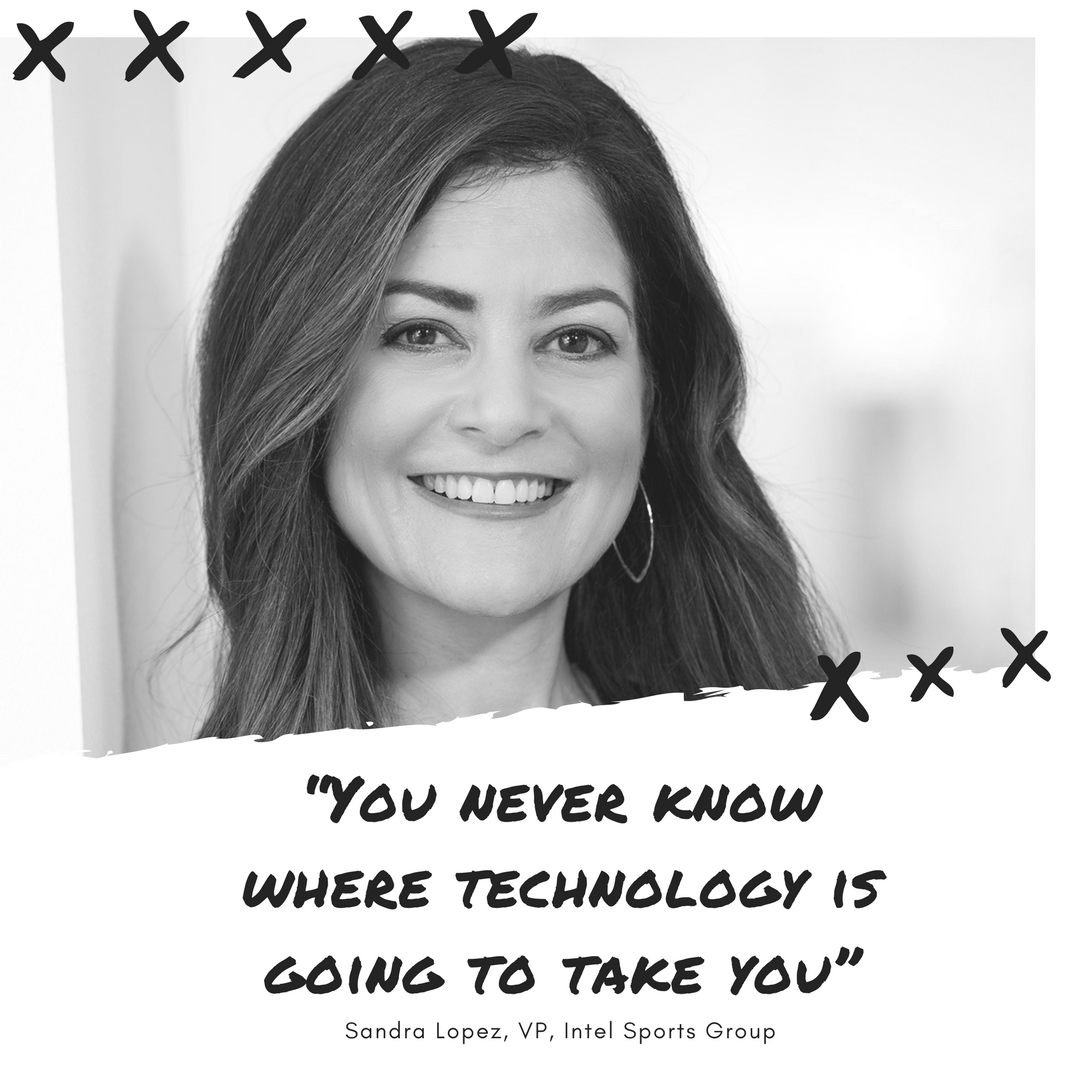 "You never know where technology is going to take you," says Lopez.
As a child, Lopez was always immersed in the idea of starting something new — everything from launching a business to thinking up new ideas, and during her time at Intel she has followed suit as she has always been in a position to create new departments, standards and business models.
She's certainly on the forefront of something new — a new paradigm for interaction, content and media.
Lopez has valuable advice for women starting out in the tech and engineering world. Read it here.