The pen camera is mightier than the gonioscope when used to diagnose glaucoma. The device was developed by researchers in Singapore as a faster, cheaper method to detect the disease.
Gonioscopes are glass scopes that must be pressed against the patient's eyeball, allowing doctors to examine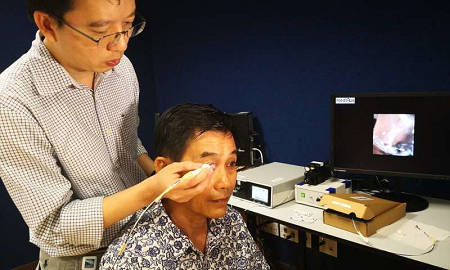 The GonioPEN shown being used to diagnose the patient's type of glaucoma. Source: Nanyang Technological Universitythe eye's drainage canal. The new GonioPEN allows doctors or trained technicians to capture more detailed images of the eye drainage canal with minimal contact at the side of the cornea. A software program is then used to analyze the images, helping doctors and eye specialists with their diagnosis.
Since the current gonioscopy method takes up to 15 minutes to perform and requires a skilled specialist to diagnose the problem on the spot, it is not routinely deployed in Singapore clinics. As a result, half the patients are not tested, leaving glaucoma largely undiagnosed.
The GonioPEN circumvents these problems with its ability to capture high-resolution digital images of the eye from the side of the cornea in three minutes. The images can be taken by a technician and are reviewed separately by an eye specialist, shortening the time the patient's eye needs to be under the microscope.
The new tool combines a high-resolution camera and LEDs for illumination to take a high-quality image of the human eye. The prototype pen camera, estimated to cost $5,000, is connected to a computer via a USB cable. The camera captures images of the eye from four different perspectives and saves it to the computer, which can then be magnified several times for a better diagnosis by an eye doctor.
The portable, digital system was designed by researchers from Nanyang Technological University with clinicians from the Singapore Eye Research Institute.