Patients with diabetes must guard against nerve damage disorders that can numb feeling in their extremities.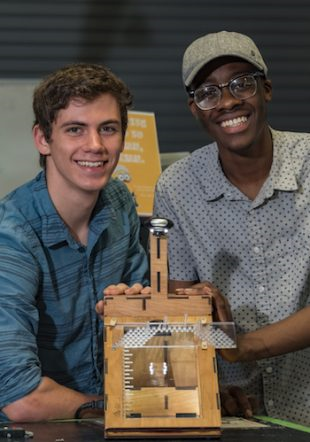 Engineering students developed a device to help patients with diabetes easily monitor their feet for cuts or other injuries. Source: Jeff FitlowA simple device developed by Rice University students can help this population detect early signs of foot ulceration that, left untreated, could endanger their health and lead to amputation.
The inspection device is likened to a foot stand one might see in a shoe store but with the addition of a clear plastic top, cameras, lights, a mirror and electronics that allow people to easily examine their feet.
The initial design attached a camera on a gooseneck to the end of a telescoping stick that patients could manipulate to manually inspect their feet. The researchers undertook a redesign to produce a system for home use, resulting in a device so simple to use that patients would be encouraged to perform inspections more routinely.
A sliding top plate with toe separators is adjustable for the right or left foot. Once a foot is in position, the patient activates the device from the custom website, which lights LEDs inside, snaps photos of both the top and bottom of the foot and transfers them to the website by way of an onboard Raspberry Pi computer. The images can also be viewed on a cell phone or other device and forwarded to a doctor.
Another class of Rice engineering students is now assessing ways to streamline the design and move it toward manufacturing.