Analysis of a patient's blood and urine samples may soon be conducted in the doctor's office instead of the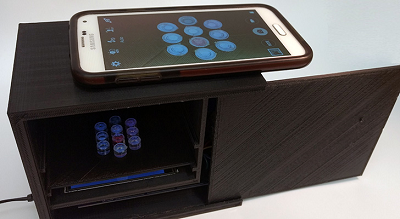 MELISA is the first mobile version of the Enzyme Linked Immunosorbent Assay (ELISA), the gold standard in biochemical analysis. Source: Arseni Zhdanovcurrent time-intensive process of sending patients, or their specimens, to a laboratory. A new mobile version of the enzyme-linked immunosorbent assay (ELISA) — MELISA could also be deployed in the field or in remote areas where conventional but expensive assay equipment is not available.
The device designed at the University of South Florida in Tampa weighs just 1 pound, can be fabricated at low cost and transfers test results via mobile phone. MELISA has been calibrated for accurate measurements of progesterone and demonstrated successful measurements with the calibrated system. A water bath heater incubates samples at a target temperature and analyzes them via images taken by mobile phone. The system uses color analysis to determine the red, green and blue color components of each sample. The blue color component is used for further analysis due to its sensitivity to the changes in progesterone concentration.
The researchers are now calibrating MELISA for a variety of tests, including testosterone, after which they'll apply for U.S. Food and Drug Administration approval so clinics can start using the device.