Sensor and IC maker ams launched what it calls the industry's smallest optical sensor module that delivers a combination of color (RGB)-, ambient light-, and proximity-sensing—providing OEMs with design flexibility and the ability to provide a better display-viewing experience.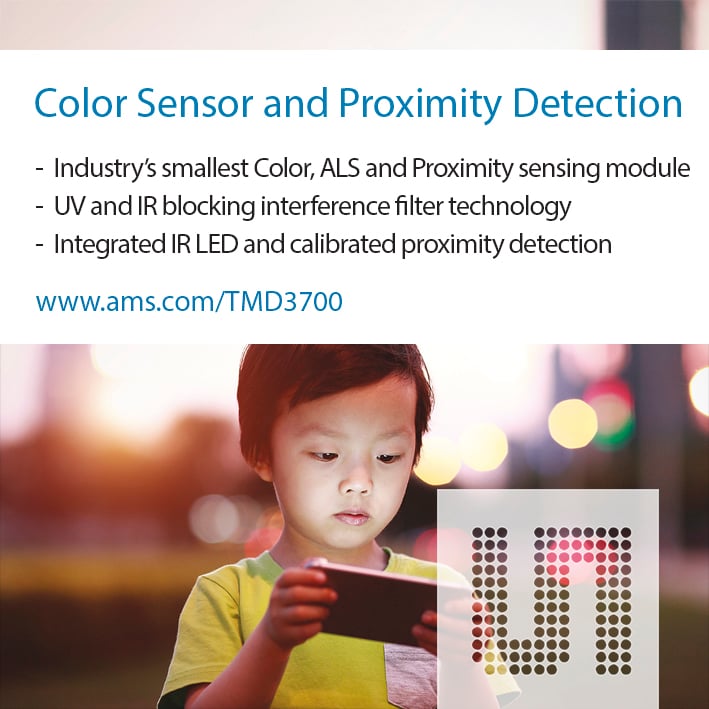 ams' TMD3700 combines color (RGB)-, ambient light-, and proximity-sensing in a single chip measuring just 4 mm x 1.75 mm x 1 mm. Image source: ams AG. ams considers the TMD3700 footprint—at 4 mm x 1.75 mm—to be the smallest available on the market. According to the company, the chip's height of just 1 mm makes it ideal for next-generation mobile phones with extremely tight layout and mechanical design constraints. The TMD3700's wide 45° field-of-view, ambient light-sensing accuracy of +/–10%, and operating range of 200 mlux to 60,000 lux behind dark glass, enable smartphones to measure the surrounding light environment and automatically adjust display color and brightness for optimal viewing.
The TMD3700 color sensor channels each have ultraviolet- and infrared (IR)- blocking filters and a dedicated converter supporting the simultaneous data capture necessary for accurate measurements. The combination of photopic color and ambient light sensing enables smartphones to perform real-time adjustment of the display properties—such as white point, color gamut and color saturation—to achieve the best visual color accuracy.
Smartphone manufacturers use proximity detection to disable the touchscreen display when it is held close to the user's face. The TMD3700 features allow dynamic elimination of both electrical and optical crosstalk for more reliable proximity detection. In addition, the module's integrated IR LED is calibrated for maximum performance and consistent operation.
The TMD3700 is available now in production volumes. Unit pricing is $1.10 in quantities of 1,000.
For more technical information, or to request samples or an evaluation board, visit the TMD3700 product page at www.ams.com.