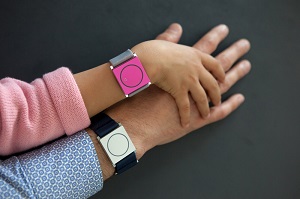 Source: Empatica Inc.
The Embrace seizure monitoring watch from Empatica, a company with offices in Cambridge, Mass. and Milan, Italy, won clearance from the U.S. Food and Drug Administration. The device uses advanced machine learning to monitor for grand mal or generalized tonic-clonic seizures. When seizure activity is detected, the Embrace sends out signals via the patient's smartphone to caregivers, notifying them of the situation.
In a multi-site clinical study, 135 patients diagnosed with epilepsy were admitted to top level IV epilepsy monitoring units for continuous monitoring with video-EEG, while simultaneously wearing an Empatica device. From these patients, 6,530 hours of data were recorded over 272 days, including 40 generalized tonic-clonic seizures. Embrace's algorithm detected 100 percent of the seizures. The trial used the gold standard of comparing to seizures clinically labelled by at least two out of three independent epileptologists, who examined the video-EEG data without seeing any data used by Embrace.
The system measures multiple indicators of a seizure by use of Electrodermal Activity (EDA), a signal used by stress researchers to quantify physiological changes related to sympathetic nervous system activity, also known as the "fight or flight" response. Embrace had already been approved in Europe as a medical device for seizure monitoring and alert since April 2017.