A Yeti — actually, several Yetis — was recently witnessed clearing snow from an airport runway in Norway. No,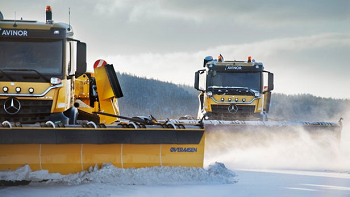 Autonomous snowplows will allow airports to streamline their activities and reduce delays for their passengers. Source: Semconthe Abominable Snowman has not found employment at Fagernes Airport, 200 km (125 miles) north of Oslo. These Yetis are autonomous snowplows developed by Semcon and Øveraasen for Norwegian airport operator Avinor.
The snowplows are 20 meters (65 ft.) long, 5.5 meters (18 ft.) wide and have enough capacity to clear an area of 357,500 square meters an hour. One unique feature of these autonomous vehicles is that they can clear snow in formation, with several vehicles working together to increase efficiency and reduce delays at airports.
A control system established by Semcon engineers sets up digital patterns for autonomous snow clearance at airports. The system can download these patterns and monitor a number of vehicles that navigate using RTK GPS, an accurate form of position measurement, and communicate using 4G modems.