Software defined radio (SDR) is a great and inexpensive way to get into the hobby of radio. Radio as a hobby has been around for many years and is typically associated with ham radio. Other hobbyists listen to scanners to monitor police and fire or use the citizens band radio.
While radio technology has made advancements into digital electronics, so has the hobby side. SDR is a method of radio reception and transmission where instead of a dedicated radio transceiver a relatively small device is connected to a computer. SDR hardware interfaces with a computer through various ways but more typically by a USB connection. The hardware has a receiver or transmitter or both and it provides the computer with the raw unmodulated radio spectrum. Modulation is the method that radio uses to carry information, such as frequency modulation (FM) and amplitude modulation (AM). For receiving, software running on a computer takes the raw spectrum and performs the appropriate functions to demodulate the signals and provide the user with the information. With the appropriate hardware\transmission of various modulation can be done in a similar way.
The great thing about SDR is that getting started requires minimum hardware and expense; a user can get started for about $20. The most common inexpensive hardware is known as an RTL SDR device where the RTL stands for the chip set used. This hardware is now available online from many vendors with various specs depending on the specific design. These RTL SDR dongles didn't start as such, instead they were sold as a TV reception device in the UK to receive DVB transmissions. It was quickly discovered that with some software adjustments the devices could be used for SDR and the low cost option was born. Prior to the RTL devices getting into the hobby would cost hundreds if not thousands of dollars for specific built hardware.
The original RTL dongle has limitations. Its frequency range starts at around 30Mhz and goes up to about 1.7Ghz. Anyone who started with scanners and radios may realize this is quite a large range of reception for $20 but it does leave out some desirable bands. A lot of radio transmissions take place below 30Mhz and this includes many ham radio bands, cb radio and shortwave. Many RTL devices now have modifications that allow them to go lower and higher in frequency as well as add-on devices that down convert or up convert the incoming frequencies into the reception range of the RTL device.
Once you have purchased an RTL based device you are going to need software to work with it. There are lots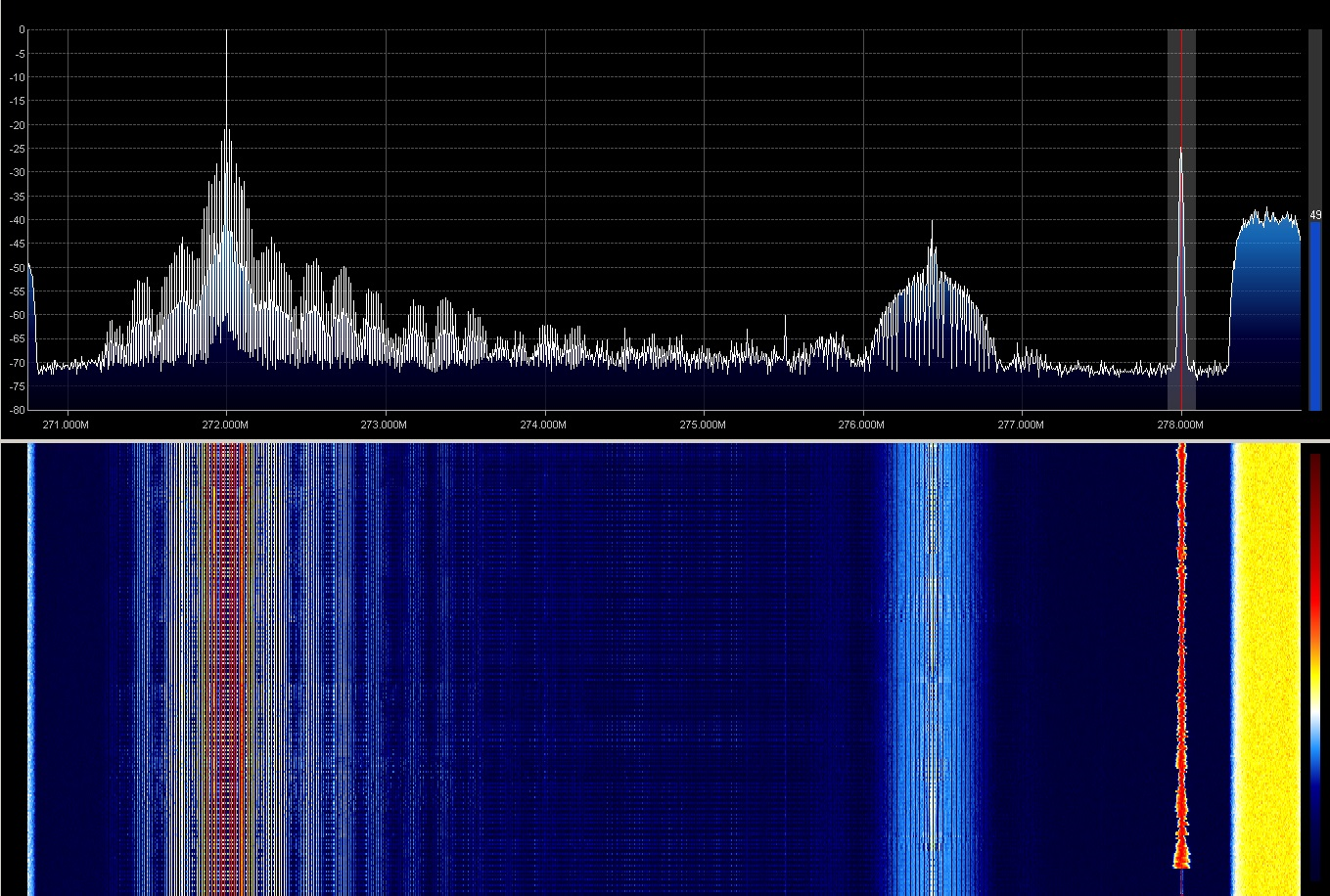 Source: Eeipcy CC BY-SA 4.0 of free and paid options. SDR# pronounced (SDR Sharp) is currently available from Airspy and is one of the easiest to start with so this is the one I will detail. This software started on its own and required a little more effort to get it working with an rtl dongle but is now part of airspy and includes all the necessary files. Simply download the software and unzip it into its own folder (It won't work if you try to use it in the zip folder). After that it is required to run the batch file "install-rtlsdr.bat" that will download the drivers needed for the RTL device. One of the files added by the batch file is called zadig and after plugging in the RTL device it is required to run it. When the RTL device is plugged in it will either be installed with some generic driver or show up with an error but it doesn't matter which way it shows up. In zadig it is required to select list all devices and then you can select the RTL device from a list of devices. Once selected the goal is to replace the driver with the winusb driver. Once this is done SDR# can be started with the sdrsharp.exe file.
In SDR# the RTL source needs to be selected and after that the gear icon should be selected to set up the device. You can just press the play icon but without setting up the rf gain most won't hear anything other than the strongest of signals. Selecting Tuner AGC will work fine to get started, but also the rf gain can be adjusted manually for optimal tuning. Once the gain is set up, pressing play will provide a spectrum of signals. The easiest to receive is the FM radio band around 100mhz and this is a good way to start to get an idea of what the signals look like. Depending on the antenna being used, FM radio may be one of the few signals received.
Many other options and software exist but with a little information and money this can start anyone on the path to a new hobby and many hours of searching the radio waves for interesting and sometimes alarming stuff.