Light rail transit and electric locomotives are either powered by overhead lines, a third rail or an onboard energy storage system. The principal controls design is based on Julian Sprague's patent for multiple-unit (MU) train control, but how do modern all-electric locomotives operate and what is MU train control?
Multiple-unit (MU) Train Control
MU train control is a method of simultaneously controlling all of the traction equipment in a train from a single location. The first electrically powered trains lacked MU train control and were powered by a single drive axle.
The introduction of MU train control allowed for distributed power. Rather than relying on a single locomotive, distribution of drive axles provided for better traction. It allowed for more passengers on the same length train and reduced the amount of energy required for operation.
MU train control is still practiced throughout the world. High-speed trains, commuter trains and even all-electric locomotives would not be economical without it.
Modern AC Traction Motors
The introduction of AC traction marked a significant improvement over conventional DC traction systems and many modern electric locomotives incorporate three-phase AC into each drive axle. They are driven by an AC (alternating current) drive, also known as a variable frequency drive.
The AC drive converts the traction alternator output to DC (direct current) and then reconverts it to a variable frequency AC which powers AC traction motors. Since AC motors operate at approximately the frequency of the current, the drives adjust the frequency to the motors speed range, which can vary from zero to maximum rpm.
The principal advantage of AC traction motors is that they offer an improved friction coefficient and better speed control. DC locomotives historically operate below the theoretical maximum load, because if a drive wheel slips the DC traction motors have a tendency to speed up and run away.
Some modern DC systems incorporate wheel slip control. They sense the beginning of a slip and automatically modulate power in order to retain control. This allows DC motors to operate closest to their theoretical maximum.
The variable frequency drive, on the other hand, operates the motor with an induced rotating magnetic field. It spins about one percent faster than the motor is turning. Since the rotor cannot exceed the field speed, any wheel slip is minimal and is quickly detected by the drive, which can react and reduce the load on the drive axle.
Regenerative Braking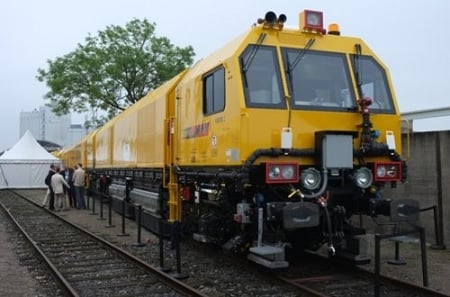 Source: American Traction Systems
The same advantages that a variable frequency drive has over a DC drive apply to its use in dynamic or regenerative braking systems. In this manner the electric traction motor acts as a generator.
The dynamic braking system benefits both from the improved friction coefficient and variable speed control. The higher friction coefficient provides for more braking power from a lighter locomotive. They also allow for full braking down to zero speed, which is not possible with a DC dynamic braking system.
Conclusion
AC traction drive systems aren't exactly new systems, but improved technology and favorable economics have helped increase their market share in the U.S. rail transit and electric locomotive markets.
AC drive systems like American Traction Systems AC propulsion systems for locomotives have been in operation since 2013. They are installed on conventional mainline locomotives, genset locomotives and third rail/catenary light rail systems. These offer the following benefits:
A wheel slip control algorithm that compensates for wheel wear
Operation at or near break down torque of the motor across the entire speed range
Rotor temperature compensation algorithm
Fully integrated dead band compensation of the IGBT firing circuit
Resources: