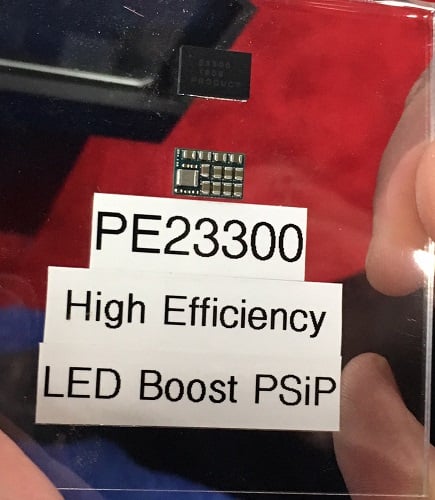 The PE23300 integrated LED boost. Source: Nicolette Emmino/Electronics360Psemi Corp., formerly known as Peregrine Semiconductor, has introduced what it claims to be the first fully integrated light emitting diode (LED) boost power supply in package (PSiP).
The PE23300 boost is based on a charge-pump, switched-capacitor architecture that offloads most of the power-conversion work from the inductor to capacitors in the charge pump. The component powers up to eight LED strings at a power level of up to 10 watts for ultra-high definition and high definition LCD panels for two-cell and three-cell narrow-voltage DC notebooks, industrial and automotive displays.
The component is housed in a 7.7 x 11.7 millimeter laminate-based LGA package that uses a die-in-substrate 3D packaging technology. The two-stage architecture allows Psemi to use a tiny chip inductor with an efficiency that is on average about 5 to 7 percent higher than competing products, Psemi says.
The architecture also delivers additional boosts, including full short-circuit protection and very flat efficiency over the entire load range. Psemi says efficiency is virtually independent of the output voltage, allowing more LEDs per string. With fewer strings, the display bezel size can be reduced in width and lower power dissipation improves reliability and supports portable applications' longer battery run times.