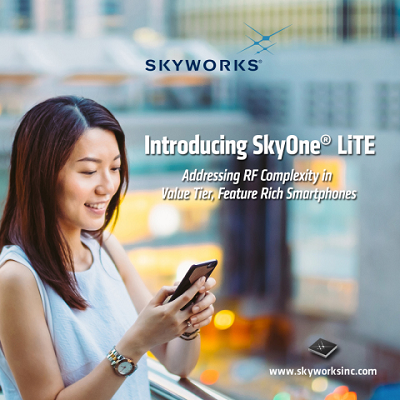 Source: Skyworks Solutions, Inc
High-performance analog semiconductor developer Skyworks Solutions, Inc. has unveiled SkyOne® LiTE, a highly integrated front-end solution for LTE mobile devices. Building upon Skyworks' proven SkyLiTE™ architecture, the new platform incorporates advanced power amplifiers, proprietary duplexers and innovative switching technology to support complex carrier aggregation combinations in a significantly reduced form factor. These high-performance systems also include a diversity receive front-end module and high linearity antenna switches to further improve functionality and enhance the user experience. Importantly, the SkyOne® LiTE family decreases development time for smartphone manufacturers.
With the increasing demand for feature-rich mobile phones that utilize full-screen displays, dual cameras and seamless multi-tasking capabilities, handset OEMs across the mobile ecosystem are faced with balancing the constraints of RF operation and industrial design. To address this need, SkyOne® LiTE delivers best-in-class transmit and receive performance while reducing the footprint by more than 20 percent. With two variants, the pin-to-pin solution supports 10 bands for North America and 12 bands for Europe and Asia Pacific.
According to a 2017 report from Accenture, developing markets are expected to account for 75 percent of all smartphone sales in 2018 and will be the engine for overall market growth. This reflects consumers' growing demand for upgraded handsets that include enhanced entertainment and media features, productivity and gaming experiences.
About SkyOne® LiTE Platform
The SkyOne® LiTE family supports carrier aggregation with switch hexaplexer functionality while delivering higher power, lower insertion loss and reduced current consumption. The platform includes the following options:
SKY78185-11/21 — low band front-end modules with 2G/3G/4G power amplifiers (PAs) for LTE applications that include four duplexers and are designed for use in all regions.
SKY78187-11 — a mid and high band front-end module with 3G/4G PAs for LTE applications that integrates five duplexers and one TDD filter and is designed for North America.
SKY78188-11 — a mid and high band front-end module with 3G/4G PAs for LTE applications that utilize four duplexers and four TDD filters and is designed for Europe and China.
SKY96500-11 — LTE diversity receive module with an MIPI® RF front-end interface.
SKY13698-694LF — double pole, double throw antenna swap switch.
For more information, please visit SkyOne® LiTE.
Skyworks at Mobile World Congress
Skyworks representatives will be in Hall 2, Stand I-2.