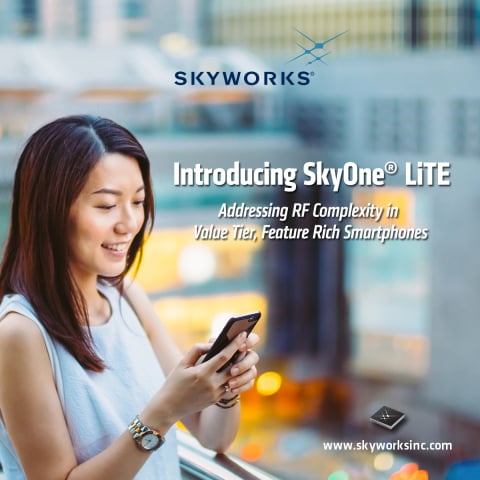 Source: SkyWorks/Business Wire
Skyworks Solutions Inc. has introduced SkyOne LiTE, an integrated, front-end solution for LTE mobile devices. This solution builds upon Skyworks' SkyLiTE architecture. It incorporates advanced power amplifiers, proprietary duplexers and switching technology that supports carrier aggregation combinations in a reduced form factor. The SkyOne LiTE family decreases the development time for many smartphone manufacturers.
There is an increasing demand for cell phones with many features that use full-screen displays, dual cameras and multi-tasking capabilities. Handset OEMs across the mobile ecosystem are faced with balancing the constraints of RF operation and industrial design. To address this, the SkyOne LiTE delivers transmission and reception performance while reducing the footprint by more than 20 percent.
The SkyOne LiTE family supports carrier aggregation with switch hexaplexer functionality. The family delivers higher power, lower insertion loss and reduced current consumption. The platform includes:
For more information, visit the SkyOne LiTE site.