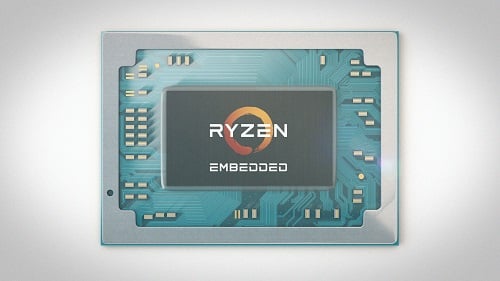 The new Ryzen embedded V1000 processor. Source: AMDAdvanced Micro Devices (AMD) has introduced two new embedded processor families for increased performance, integration and on-chip security for a variety of applications.
The two families include the EPYC embedded 3000 processor and the AMD Ryzen embedded V1000 processor. The EPYC device is targeted at networking, storage and edge computing devices while the Ryzen embedded version works with medical imaging, industrial systems, digital gaming and thin clients.
Along with the introduction of the devices, AMD has announced customers that have adopted them including Esaote ultra-performance MyLab 9 eXP ultrasound system for medical imaging using the Ryzen; the Quixant QX-70 4K HD casino gaming platform using the Ryzen; as well as a casino gaming platform and multimedia gaming engine; a high performance Com-E module for medical, automation and gaming applications and a mini-ITX embedded motherboard from Advantech using the Ryzen.
The EPYC embedded 3000 processor features up to 2.7 times the performance-per-dollar than competing devices with two times more connectivity, AMD claims. The processor also features enterprise-grade reliability, availability and serviceability. The EPTC processor family includes designs ranging from four cores to 16 cores in single-thread and multi-thread configurations. It supports thermal design power ranges from 30 to 100 watts with integrated I/O support for up to 64 PCIe lanes and up to eight channels of 10GbE. It includes up to 32 megabytes of shared L3 cache with up to four independent memory channels.
The Ryzen embedded V1000 processor provides a two times uplift in performance over the previous generation with a three times more GPU performance than competing devices and 46 percent more multi-threaded performance, AMD claims. The device also has a 26 percent smaller footprint than other designs. The processor family includes coupling AMD's Zen CPUs and Vega GPU on a single die with up to four CPU cores/eight threads and up to 11 GPU compute nits for a processing throughput as high as 3.6 TFLOPS. This allows the device to deliver up to 200 percent more performance compared to AMD's previous generation. The processor includes dual channel 64-bit DDR4 with a performance up to 3200 megatransfers per second, I/O capabilities that support up to 16 PCIe lane,s dual 10 GbE and USB options.