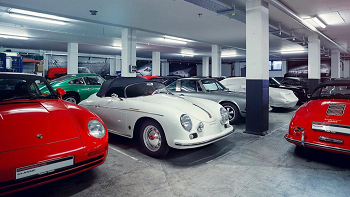 Source: Porsche
No doubt owners of rare Porsche models have been crestfallen to hear these words: "That part is no longer available." Perk up, classic car connoisseurs, 3D-printing technology is here to save your spare parts.
Porsche Classic, the company's division dedicated to classic vehicles, is now using 3D printers to produce extremely rare parts that are only needed in small quantities. Components fabricated in this manner meet requirements in terms of absolute fidelity to the original specifications — both from a technical and a visual perspective.
The Porsche Classic range includes some 52,000 parts, and if a specific spare part is no longer in stock or stock is dwindling, it is reproduced using the original tools. For larger quantities, production may require the use of new tools. However, ensuring the supply of parts needed only in limited numbers sometimes poses a major challenge, as small batch production with new tools would be largely inefficient. Before embarking on a project to produce a particular component, Porsche Classic always evaluates various manufacturing processes.
Additive manufacturing offers an economic alternative for small runs. For example, consider that only 292 Porsche 959 models were assembled and the release lever for its clutch, which is in low demand, is no longer available. This part has been resurrected by use of selective laser melting. A layer of powdery tool steel less than 0.1 mm thick is applied to a processing plate, after which a high-energy light beam melts the powder in the desired locations to create a steel layer. Thus, A pressure test with a load of almost three tons and the subsequent tomographic examination for internal faults were both passed by the printed release lever, and extensive driving tests confirmed function and quality.
The company is now 3D printing eight other parts, including steel and alloy components made by selective laser melting and plastic parts produced by selective laser sintering. An additional 20 parts may soon be 3D printed on demand, enabling Porsche to eliminate tool and storage costs.