Can you imagine powering your electronics with your own body? Sounds crazy. But soon enough you will be able to! Researchers from University at Buffalo and the Institute of Semiconductors (IoP) at the Chinese Academy of Science (CAS) have developed a metallic tap that can gather electricity from simple movements, like bending a finger.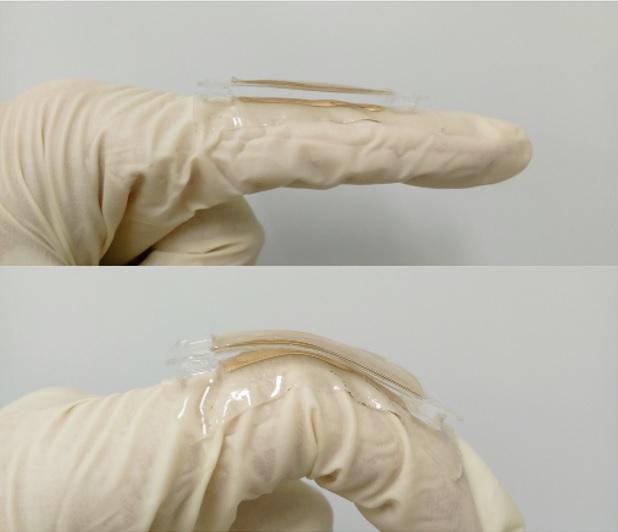 This is a prototype of the triboelectric nanogenerator. (Source: Nano Energy)
"No one likes being tethered to a power outlet or lugging around a portable charger. The human body is an abundant source of energy. We thought: 'Why not harness it to produce our own power?'" says lead author Qiaoqiang Gan, Ph.D., associate professor of electrical engineering in UB's School of Engineering and Applied Sciences.
The tab is a triboelectric nanogenerator. Triboelectric charging works when devices become electrically charged by touching another material. You know how if you rub your socks over a carpet and then touch your friend, you shock them? That is triboelectricity.
The tab developed by the research team is cost effective and easy to manufacture. They are made of two layers over a PDMS, a silicon-based polymer. The device works through one stretched layer of gold that crumples, so when it is stretched out it conducts electricity between the layers and PDMS.
"This causes electrons to flow back and forth between the gold layers. The more friction, the greater the amount of power is produced," says another lead author, Yun Xu, PhD, professor of IoP at CAS.
The first small tab developed was 1.5 x 1 centimeters and delivers a max voltage of 124 volts, max voltage of 10 microamps and a max power density of .22 milliwatts per square centimeter. This voltage lit 48 red LED lights simultaneously. This may not be able to charge your smartphone yet, but researchers hope to develop one large enough to charge a phone soon.
The next step, besides making the tab bigger, is to create a battery that has the ability to store the tab's energy. They believe that the system can be the sole power source for wearables and other electronics.
The paper on this research was published in the journal Nano Energy.