Good news! You don't have to feel guilty about relaxing at home rather than going out anymore. A new study has found that a rise in Americans online shopping, streaming videos and working from home is linked to a decrease in energy being used. You might think that staying home increases the amount of energy used in the home, therefore more energy is being spent. While a rise in home energy is true, the decrease in travel and non-residential energy use is significantly decreased. A net of 1,700 trillion British thermal units (Btu) in energy was saved in 2012 because of the increase in Americans staying home.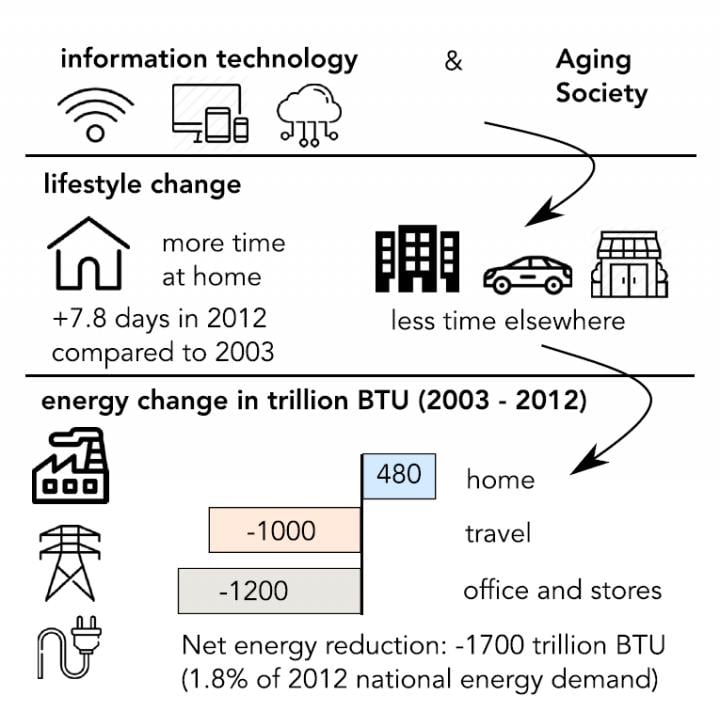 This visual abstract depicts how lifestyle changes and the associated energy effects in the United States between 2003 and 2012. Source: Sekar et al./Joule 2018
To gather the information for this study, a decade of American Time Use Surveys was analyzed. These surveys showed that Americans spent about eight extra days at home in 2012 when compared to 2003. They spent a day less traveling and a week less in non-residential buildings. The surveys showed that the biggest change was in the age group 18-24. This age group had the highest amount of time spent at home, 70 percent more than the general population.
The survey results were compared to energy use in these years. This showed that there was a large increase in energy use at home and an even bigger decrease in transportation and non-residential spaces.
"We did expect to see net energy decrease, but we had no idea of the magnitude," says first author Ashok Sekar, a postdoctoral fellow who studies consumer energy use and policy at the University of Texas at Austin. "This work raises awareness of the connection between lifestyle and energy. Now that we know people are spending more time at home, more focus could be put on improving residential energy efficiency."
While the researchers don't precisely know the reason for this change in lifestyle, they believe that it may be due to the further development of the internet. Now you can do almost anything on the internet, from going to the movies to grocery shopping. Remotely working from home is a growing trend in the workplace as well.
The researchers are planning on doing this type of research in other countries to see if this is a worldwide trend.
"Right now, the analysis is a comparison only at the sector level; I would like to disaggregate even further and think about energy trade-offs at activity level for, e.g., going to restaurants versus ordering food online," says Sekar. "I'd like to include details we have not been able to capture."
A paper on this analysis was published in Joule.