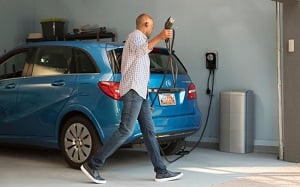 Source: Vivint Solar, Inc.
Fully Integrated Solar, a comprehensive residential product suite featuring a solar energy system, electric vehicle (EV) charger, home battery and smart home technology for intelligent energy management, has been launched. The development by Vivint Solar, Inc., and Chargepoint offers ChargePoint® Home charging solutions and custom installations directly to residential customers.
Compatible with any EV, ChargePoint Home brings innovation to the residential garage, offering a small but advanced home charging solution for EV drivers. The first home charger with ENERGY STAR certification, ChargePoint Home charges EVs up to six times faster than a standard 110 V outlet, delivering up to 25 miles of Range Per Hour and using 40 percent less energy than a standard EV charger when not charging. The system features a compact, slim design and is easy to manage with an app that enables drivers to schedule charging, start charging remotely and track energy usage and all charging in one place.
When EV drivers need to charge away from home, they can do so at more than 40,000 ChargePoint charging spots across North America.
Fully Integrated Solar from Vivint Solar will enable customers to optimize both their energy production and consumption. First, the customer's Vivint Solar photovoltaic system produces clean energy, which can then be stored in a home battery storage system that intelligently delivers energy to the home depending on electricity rates, and provides a backup power source if the grid goes down. An integrated energy management system from Vivint Smart Home uses artificial intelligence to help customers further reduce their energy usage. For example, a smart thermostat can reduce heating and cooling costs by 10-15 percent. Finally, the addition of ChargePoint Home enables the customer to charge their EV at home while expanding the benefits of solar energy to their mode of transportation.