An ingestible 26 mm long, 9.8 mm external diameter capsule designed to detect and measure gut gases —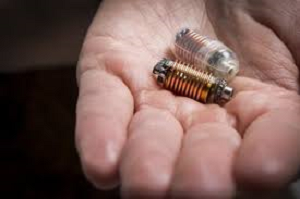 Source: Peter Clarke/RMIT University hydrogen, carbon dioxide and oxygen — in real-time was tested in human trials. Researchers from Australia's Royal Melbourne Institute of Technology (RMIT) observed that the human stomach releases oxidizing chemicals to combat foreign bodies in the gut. This could represent an immune mechanism previously unknown to scientists.
The trials also showed the presence of high concentrations of oxygen in the colon under an extremely high-fiber diet, which contradicts the commonly accepted concept that the colon is always oxygen free.
A non-transparent, polyethylene shell houses the internal electronic components. In addition to sensors for hydrogen, carbon dioxide and oxygen gases that operate in various aerobic and anaerobic conditions, the capsule contains a temperature sensor, a microcontroller, a transmission system (433 MHz) and button-size silver oxide batteries. A combination of thermal conductivity and semiconducting sensors, with an extraction algorithm, were used for generating the gas profiles and extract the gas concentration in both aerobic and anaerobic segments of the gut.
The capsule accurately shows the onset of food fermentation, highlighting potential to clinically monitor digestion and normal gut health. The device can also offer a non-invasive, effective way of measuring microbiome activities in the stomach, a critical way of determining gut health.
The research is published in the journal Nature Electronics.