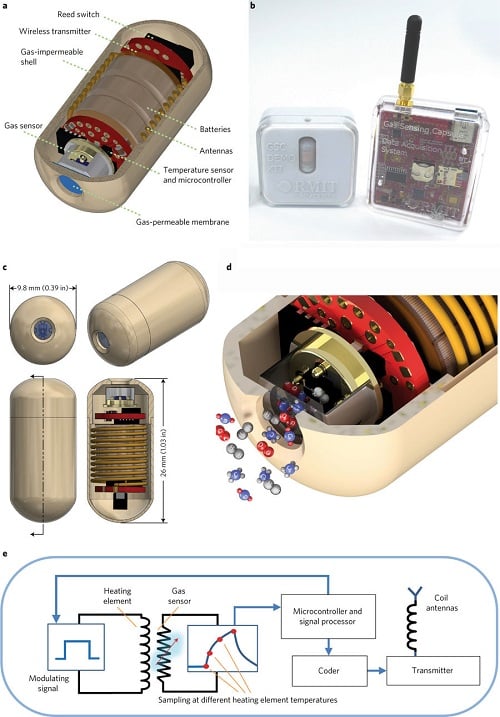 A collection of images showing the team's capsule and transmitter design. Source: Nature ElectronicsA group of Australian researchers has developed an ingestible electronic pill that – for lack of a better description – tracks the development of flatulence throughout a patient's digestive tract.
The team comprised of researchers from RMIT University and Monash University, both in Melbourne, and CSIRO in Brisbane published their findings Jan. 8 in Nature Electronics. The capsule they developed tracks the presence of oxygen, hydrogen and carbon dioxide gases in real time while traveling from the stomach to colon. It uses a combination of thermal conductivity and semiconducting sensors to sense gut gases. Selectivity and sensitivity to different gases is controlled by adjusting the sensors' heating elements.
"Our gas capsule offers an accurate and safe tool for monitoring the effects of diet of individuals, and has the potential to be used as a diagnostic tool for the gut," the authors wrote in the article abstract.
The main intestinal gases consist of oxygen, nitrogen, hydrogen and carbon dioxide. Scientists have found these gases to be key factors in understanding and diagnosing disorders involving the gut. For example, hydrogen measurements can determine carbohydrate malabsorption or small intestine bacterial overgrowth (SIBO) in a patient's gut.
Existing test methods for gases of the gut include flatus analysis, tube insertion, whole-body calorimetry, incubation of fecal samples and breath tests. The research team hopes their capsules may supplant these tests, which are invasive, inconvenient and often unreliable.