Royole Corporation, a leading innovator and manufacturer of next-generation human-machine interface technologies and products such as advanced flexible displays, flexible sensors and smart devices, announces that it has been named a CES 2018 Innovation Awards Honoree for its Selfie Stick, among other Royole products such as the 4G LTE Moon. Products entered in this prestigious program are judged by a preeminent panel of independent industrial designers, independent engineers and members of the trade media to honor outstanding design and engineering in cutting-edge consumer electronics products across 28 product categories.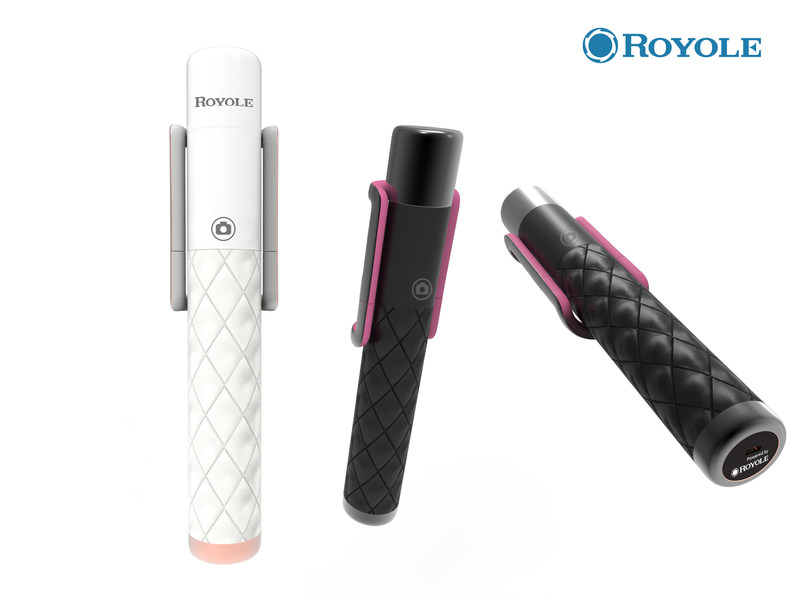 Royole Selfie Stick. Souce: Royole Corporation
The stylish Royole Selfie Stick is based on the company's unique ultra-thin transparent flexible sensors. Instead of physical buttons found on traditional selfie sticks, multi-function flexible sensors wrap around the device handle and allow users to easily control all camera functions such as: focus, filter selection, front and rear camera selection, recording, shutter and more. All functions can be customized to the user's preferences, making 'self-photography' much more fun and convenient. Its elegant leather design is inspired by Chanel's classic diamond-shaped lattice bag – fashionable and full of personality, while also being light and easy to carry. The Selfie Stick comes in five stunning colors.
"We are elated to be recognized as a CES 2018 Innovation Awards Honoree for our Selfie Stick," said Dr. Bill Liu, Founder and CEO of Royole. "It is a great example of how a product using our flexible electronics can improve the way people interact with their world, and it is very gratifying to be recognized by CTA for all of our teams' hard work."
The prestigious CES Innovation Awards are sponsored by the Consumer Technology Association (CTA)™, the owner and producer of CES 2018, the global gathering place for all who thrive on the business of consumer technologies, and have been recognizing achievements in product design and engineering since 1976.
About Royole Corporation
Founded by Stanford engineering graduates in 2012, Royole's mission is to improve the way people interact with and perceive their world. The company creates and manufactures next-generation human-machine interface technologies and products including advanced flexible displays, flexible sensors and smart devices. Technology milestones include the world's thinnest full-color AMOLED flexible display and flexible sensors (2014), the world's first foldable 3D mobile theater (2015), and the world's first curved car dashboard based on flexible electronics (2016).
Royole has received numerous global awards for its technology innovations and fast growth. Holding over 1500 IPs, it provides IP licenses, services, and, mass production and solutions for flexible electronics applications with its novel "Flexible+" platform. Royole, backed by leaders in global finance, has built a new 1.1-million-square-foot flexible display production campus in Shenzhen, China, with a total investment of USD $1.7B. Royole has offices in Fremont, CA, Hong Kong, and Shenzhen, China. For more information, visit http://www.royole.com/.