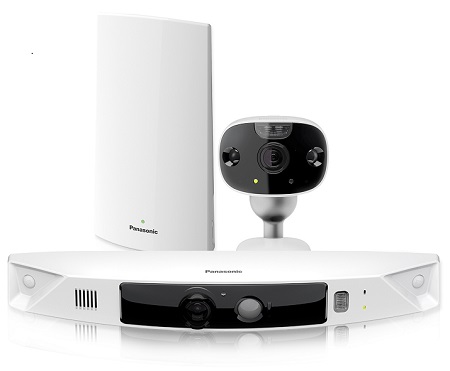 The Panasonic HomeHawk. Source: Panasonic Corp.
As part of its celebration of a century of innovation, Panasonic is using the proving ground of CES 2018 to launch several new products for the modern home. These include:
An expansion of the Panasonic TV and Blu-Ray player line, with new models offering support for HDR10+ dynamic metadata technology. HDR10+ is an open platform created by the company in conjunction with 20th Century Fox and Samsung, designed to optimize the viewing experience on a scene-by-scene basis. The technology will be incorporated into future Ultra HD movie releases, and can also be utilized to stream the Amazon Prime Video HDR library. The new models include OLED screen TVs in FZ950 and FZ800 series, plus the DP-UB820 and UP-UB420 Ultra HD Blu-Ray players.
The GA10 smart speaker, with industry-leading sound quality and Google Assistant integration.
The HomeHawk outdoor camera system, a wire-free, weather-resistant home monitoring system that leverages Panasonic's color night vision technology and wide-angle HD video quality.
Plus the LUMIX GH5 S mirrorless camera, which according to Panasonic offers features found only on broadcast cameras; the WXF1 camcorder, with increased low-light performance; and two new Technics turntables, the SP-10R and SL-1000R that provide a more powerful, clear and crisp audio experience.
More information on Panasonic's presence at CES 2018 can be found here.