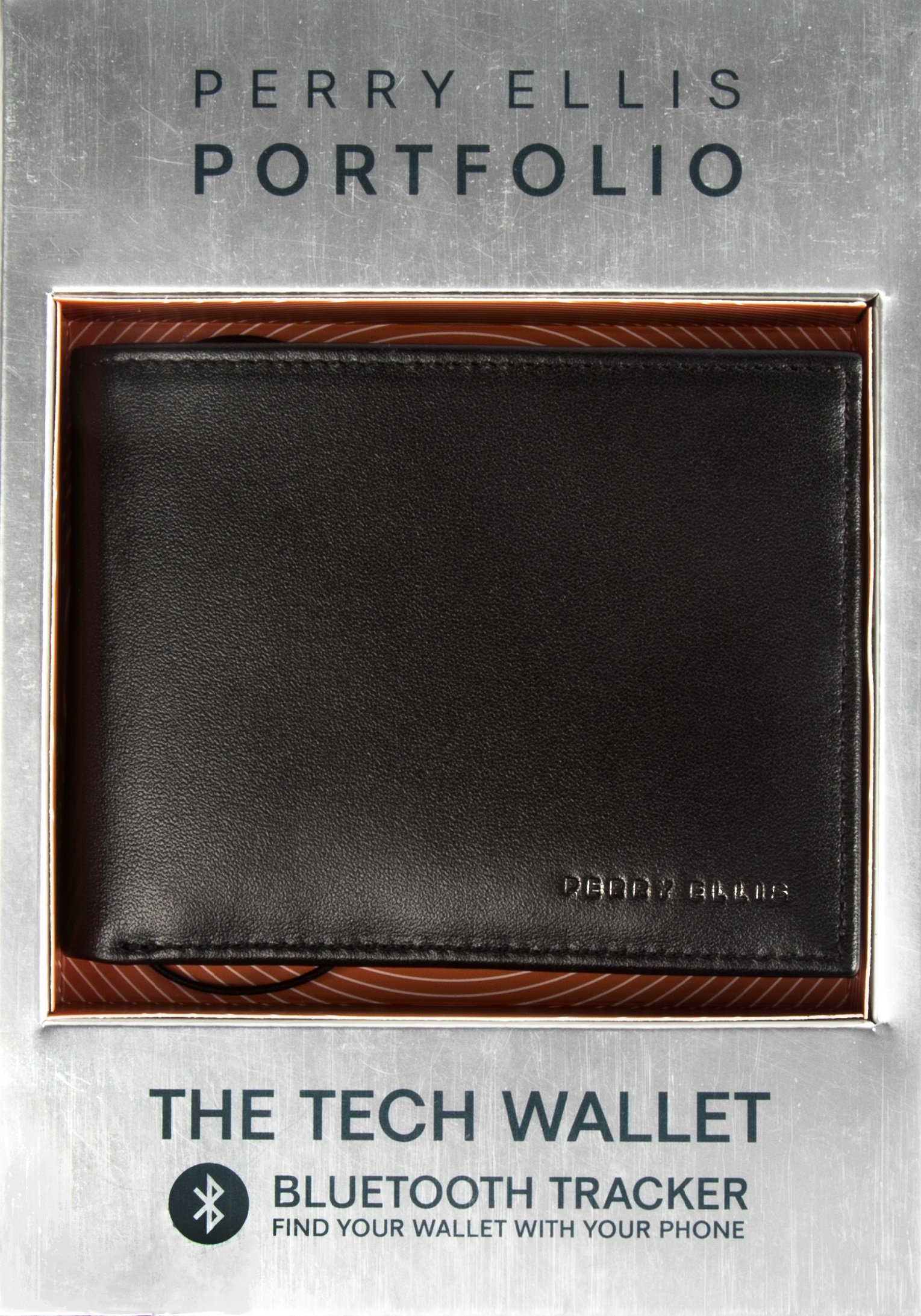 The Tech Wallet from Perry Ellis. Source: Chipolo
At the 2018 Consumer Electronics Show, Chipolo, the Bluetooth tracker startup that allows you to find anything with your smartphone, is announcing a new partnership with iconic menswear fashion brand, Perry Ellis, to bring consumers the Tech Wallet.
Designed for the modern man, the smart wallet is made of genuine leather and incorporates the Chipolo Card, the world's thinnest Bluetooth tracker. The Chipolo Card, combined with the Chipolo smartphone app, will help consumers find their wallet if they happen to lose or misplace it.
Manufactured from genuine black leather and measuring 4.25 inches wide and 3.25 inches high, the Tech Wallet will be available for $75 at Macy's stores and online and on PerryEllis.com in February 2018. Each wallet features a customized sleeve to sleekly conceal the Chipolo Card without adding any bulk.
Never lose your wallet again!
Here's how it works. Connect the Tech Wallet (or anything else with a Chipolo Card attached) to the Chipolo smartphone app. Press the "ring" button in the app to ring the card, or double press it to ring your phone — even if it's on silent. The app remembers where you had the wallet last and locates it on a map.
When the Tech Wallet goes missing and is within 200 feet of the user, they can sound a 95-decibel ring to locate it. If the wallet is lost outside of that range, Chipolo's global Lost & Found Network, which is already enabling more than 1 million users around the world to find more than 50,000 lost items daily, will automatically start searching for it. When another Chipolo user passes by the misplaced wallet, the original user will receive a confidential update with the wallet's last known location.
Chipolo is also announcing new partnerships with Wistiki, a French Bluetooth tracking company, enabling more consumers to take advantage of Chipolo's community search feature, and Bragi, makers of the world's first smart earbuds.
The partnership with Wistiki will merge both companies' Lost & Found communities together to form one massive support network to give both Chipolo and Wistiki users peace of mind knowing that they're never alone in their search for misplaced items. By sharing anonymous data, both companies can expand their already substantial Lost & Found communities without sacrificing confidential user information.
Through its new partnership, Bragi headphones will be introducing the Chipolo tracking technology in a future Bragi Operating System release to reduce the likelihood of losing or misplacing the headphones. Bragi customers will also have access to Chipolo's community search when their headphones go missing.
Visit Chipolo at CES
Visit Chipolo's booth no. 44355 in the Sands Expo as CES from Jan. 9-12 for a first look at the Tech Wallet, as well as Chipolo's recently launched second-generation Chipolo Plus and Classic, which received hardware updates and new box and logo designs as part of the brand's refresh. Attendees can also demo Chipolo-integrated Knomo products at the booth.
For additional information, visit the Chipolo website.