Sponsored content
In the face of increasing demand for high-reliability data storage, data center managers are reviewing their backup power strategy with an eye toward minimizing the total cost of ownership (TCO) and reducing maintenance as they expand capacity. This puts the lithium-ion battery, or li-ion battery (LIB), at the center of next-generation data center infrastructure for reasons of cost, space and weight, as well as performance, reliability, greater real-time insight and safety.
The need for more data storage is largely driven by the internet of things (IoT), artificial intelligence (AI), mobile computing, business needs, regulatory requirements, including the move to electronic storage of medical files, as well as more personal use of cloud storage, according to Crystal Market Research. Cushman & Wakefield, a global real estate services firm that also provides data-storage facility leasing, expects the trend to continue well into the future, estimating multi-tenant revenue growth of 12 to 14 percent each year for the next two to five years.
Lithium-Ion vs. Valve-Regulated Lead Acid
With the expansion of the data center comes the opportunity to rethink battery technology options for uninterruptible power supplies (UPS). UPS system batteries keep the data center operational during brownouts or failures, providing a power bridge to the start-up of backup diesel generators for longer outages. Historically, valve-regulated lead-acid (VRLA) batteries have been the default option, but continuous advances in LIB chemistries, combined with their inherent characteristics, make LIBs increasingly advantageous (Figure 1). These inherent characteristics include totally sealed construction and no emitted gases.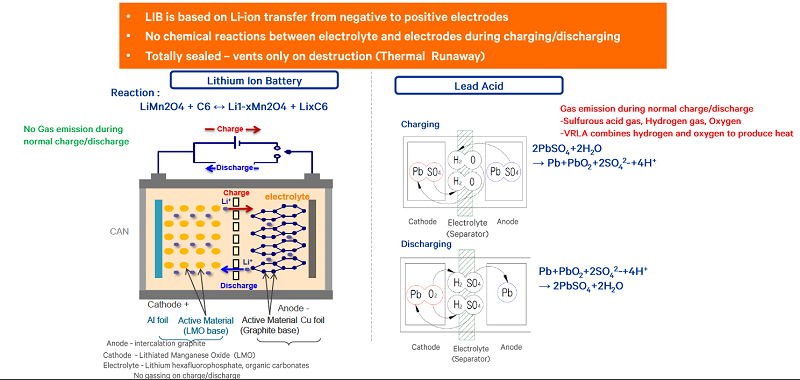 Figure 1. LIBs are based on lithium-ion transfer from negative to positive electrodes and, compared to lead-acid batteries, have inherent advantages such as no emitted gases and being totally sealed. Source: Vertiv
The cost of LIBs has fallen rapidly due to high volume manufacturing for applications such as electric vehicles and alternative energy storage. In 2008, automotive LIBs cost approximately $900/kilowatt-hour (kWh), but by 2016 costs fell to about $100/kWh.
In addition to initial costs, calculations for LIB expenses include total maintenance costs and end-of-life (EOL) performance. For LIBs, the maintenance cost is half that of VRLA batteries.
For EOL, data center managers need to be aware that all battery types provide a certain capacity on day one and that over time this capacity decreases. A VRLA battery is designed for 10 minutes of storage at the beginning of its service period, but at the 4.5 year EOL, the storage capacity will typically be about five or six minutes. The typical VRLA warranty is three years.
LIBs supporting a similar system and with a 10-minute capacity will have about an eight-minute capacity after 15 to 20 years, which is the typical EOL. The typical warranty is 10 years. LIBs are also lighter than VRLA equivalents (1,200 lb. versus 5,000 lb. for comparable capacity) and have a smaller footprint (26 in. versus 55 in.).
A common pain point mentioned by users of VRLA batteries is that battery replacements are a source of business disruption. These organizations welcome the relief that LIBs offer. Rather than replace the battery every four years, they can plan more around the life cycle of the entire UPS.
To maximize the VRLA battery life, it must be maintained at 25 degrees Celsius with a maximum tolerance of ±2-3 degrees Celsius. In contrast, a lithium battery can operate over a range of 18 to 28 degrees Celsius. A typical VRLA can withstand 200 to 300 charge and discharge cycles, while an LIB can take 2,000 to 3,000 — a 10-fold improvement. In addition, VRLAs need to be recharged within six months of manufacture; LIBs can wait up to two years, or four times as long.
While LIBs for UPSs have many advantages, they do have longer discharge times compared to VRLAs. This is related to the chemistry in the LIB, cell construction and the limitations imposed by the battery management system (BMS). The implication is that for a given capacity, a LIB can't deliver as much power as quickly as a VRLA. However, this is accounted for in the battery capacity selection stage, as well as with appropriate battery monitoring and discharge control. LIBs tend to be optimized in the 5-10 minute range, depending on the specifics of the individual LIB system. Given that the discharge profiles are well characterized and carefully managed by the BMS, they can discharge fully in about eight minutes, as in the case of Samsung's LIBs.
Choose LIBs to Match the Application
The use of a BMS for LIBs ensures the battery charge and discharge cycles are carefully matched to the li-ion chemistry to allow safe operation of the battery (Figure 2). The BMS is integrated into the LIB power modules and monitors voltage, temperature and current to help ensure the LIB system meets UL listing requirements (UL 1642 for cell safety and UL 1973 for cabinet safety). Most electrical inspectors and building insurance carriers require these UL listings for any LIB used in a large data center application.

Figure 2. Not all LIBs are the same. For data center UPSs, where data availability is critical, LFP, LMO and NMC are the principal choices. Source: Vertiv
Three LIB providers now have UL 1642 and UL 1973 for UPS systems over 50 kVA and two more are expecting approval shortly. Li-ion qualified its 85 kW at 10-minute systems (maximum discharge of 250 kW for 1.5 minutes) in late 2014, while Samsung qualified its 160 kW at 10-minute systems (maximum discharge of 200 kW at 4.5 minutes) in 2016.
The extensive adherence to safety guidelines, the long testing cycles and the inclusion of physical safety devices such as an overcharge safety device and fuse are the reality for industrial-grade LIBs for data centers. This level of safety goes unnoticed when compared to recent coverage of consumer-level devices such as hoverboards and mobile devices. However, those problems serve more as a commentary on the accelerated design cycles and extreme cost and space-constraints facing designers of battery-powered consumer electronics systems. In the UPS industry, UL has recognized the importance of safety and it has taken UPS manufacturers over a year to obtain the UL 1642 and UL 1973 listing for use in large data centers.
The pressures of consumer products make it difficult to perform the extensive testing that would likely have identified and eliminated previous issues. For example, the average development period for consumer electronics is just three to six months, whereas it is more extensive for UL-listed LIBs. Respectively, the design and upgrade cycles for data centers can also be extensive, and so provide managers more time to carefully consider LIB options.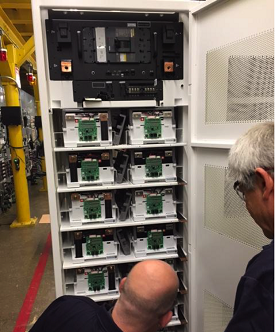 Figure 3. To ensure the customer reaps the long-term benefits of LIBs, Vertiv electrical engineers test each installation to ensure the batteries work seamlessly with the UPS to meet the application specifications. Source: VertivConcerning chemistry, handhelds and laptops mostly use lithium cobalt oxide (LCO) for its high energy density, while three main options exist for UPS LIBs: lithium iron phosphate (LFP), lithium manganese oxide (LMO) and lithium nickel manganese cobalt oxide (NMC). While these may have lower energy density than LCO, they do have longer service lives, greater inherent safety and provide the short discharge times desired for data center use (Figure 2).
Conclusion
When it comes to considering LIB versus traditional VRLA batteries, the data center manager can look forward to a lower TCO over a longer term, fewer failures, less maintenance and a far more compact energy storage solution. Plus, the lower weight makes them useable in more locations. Vertiv performs significant upfront testing to make sure the batteries work seamlessly with their UPS systems (Figure 3).
To meet customer requests for LIB energy storage, Vertiv offers lithium-ion battery solutions for large- and mid-sized UPS systems, including Liebert® Series 610, Liebert NX 225-600, Liebert EXL S1, Liebert EXM and Liebert NXL, which are available from 50 to 1,200 kW ratings.