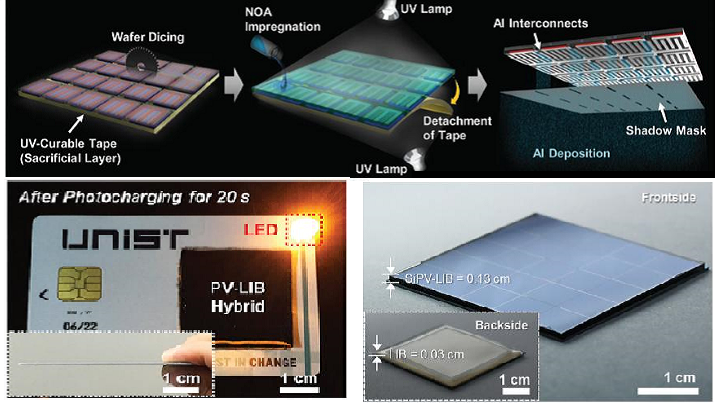 (Clockwise from top) Schematic representation of Si PV module assembly and the SiPV-LIB device; operation of the embedded smartcard. (Source: UNIST)
Researchers at South Korean science and technology university UNIST have developed a single-unit, photo-rechargeable mobile power source designed to work under both sunlight and indoor lighting – and even in the absence of light. Seeing the combination of energy generation and energy storage systems as the ultimate solution to meet the ever-increasing demand for high-energy-density power sources, the researchers believe the device will open the door to a facile and scalable route for the development of the types of batteries that will be required for the future era of ubiquitous electronics.
The single-unit device is based on high-efficiency silicon solar cells and lithium-ion batteries (LIBs), and was presented as a new class of integrated photovoltaic-battery systems (referred to as "SiPV-LIBs") by UNIST Energy and Chemical Engineering Professors Sang-Young Lee and Kwanyoung Seo. It employs a thin-film printing technique, in which the solid-state LIB is directly printed onto the solar cell, a miniaturized crystalline silicon photovoltaic (c-Si PV) module.
According to the research team, the device exhibits both electrochemical performance and design compactness that go far beyond what is achievable by conventional PVs or LIBs alone; its capacity for rapid photo-charging is also significant. "This device provides a solution to fix both the energy density problem of batteries and the energy storage concerns of solar cells," said Prof. Lee, who believes that the device can potentially be used in electric vehicles and portable electronics as a solar-driven, infinite energy conversion/storage system.
In order to explore the SiPV-LIB device's practical use, Lee and his research team fabricated a monolithically-integrated smartcard by inserting the device into a pre-cut credit card. Electric circuits were drawn on the back of the card to connect the device to various portable electronics such as an LED lamp, smartphone and MP3 player. They found that the device was capable of fully charging under sunlight illumination after only two minutes; good results were also shown at very high temperatures (60 degrees Celsius) and low-light intensity (8 milliwatts per square centimeter) that mimicked a dimly-lit living room.
"The SiPV–LIB device presented herein shows great potential as a photo-rechargeable mobile power source that will play a pivotal role in the future era of ubiquitous electronics," said Professor Lee.
The full study is published in the April 2017 issue of Energy & Environmental Science.