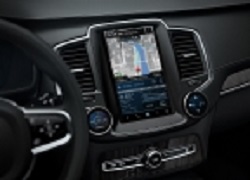 Source: Business Wire
Garmin International Inc., a unit of Garmin Ltd., will be introducing its scalable infotainment platform for Automotive Original Equipment Manufacturers (OEMs) at the 2018 Consumer Electronics Show (CES), January 9-12, in Las Vegas, Nevada. The platform uses the Intel Atom® quad core x7 or Intel Atom® dual core x5 (Apollo Lake) processor and includes multiple premium industry-firsts for consumers like wireless rear-seat navigation, comprehensive weather forecasts along a route, Foursquare's Location Intelligence and Places Database and a unique integration of Amazon's cloud-based Alexa voice service.
Driving in bad weather can be a common concern for consumers. To help bring peace of mind, Garmin utilizes predictive routing algorithms that work with AccuWeather Go™ powered by MinuteCast® technology to display the weather conditions that can be expected along any given route. Thanks to this joint effort between Garmin and AccuWeather, the scalable infotainment platform offers the first navigation system to provide comprehensive minute-by-minute weather forecasts with Superior Accuracy™ to pinpoint exact routes.
Alexa works directly with the on-board navigation and media player software established by Garmin — which means no smartphones or apps are required. Consumers can easily select their destination with the Alexa hands-free voice service and then have it automatically synced to turn-by-turn navigation from Garmin. Users can ask Alexa questions and receive both audio and on-screen responses; play music through the head unit's media player; control home automation while traveling on the road; and access hundreds of other Alexa skills from the vehicle's head unit.
Garmin also uses the infotainment platform for wireless rear seat navigation and entertainment. Tablets or smartphones — Apple or Android — will have access to the head unit's mapping and full navigation functionality streaming over Wi-Fi to the rear seat. Rear seat passengers will be able to see the vehicle's route, search points of interest (POIs) and even send destinations to the head unit. Users can also stream media content from the infotainment system to their device via Wi-Fi, making the vehicle an entertainment hub that mimics the experience seen on commercial airliners.
The versatile platform includes on-board and connected Foursquare POI integration, a feature that was recently launched by Garmin as a factory-installed navigation solution. With Foursquare's Places Database that powers 125,000+ developers, including Uber, Twitter, Snapchat and Foursquare add more POIs in the categories of Food and Drink and Lodging and Entertainment, which are the most searched categories in a car.
During CES, the infotainment platform will be installed in a new demonstration vehicle with an all-digital Garmin instrument cluster with full-screen moving maps. In this vehicle, Garmin will showcase the platform in conjunction with "Lenexa" HMI (human machine interface). As shown in the 2017 concept, the Lenexa HMI's unique knob and display design makes frequently used audio and smartphone features more easily accessible through tactile controls.