Chassis Plans' new BFX displays rugged, military grade, high performance, 2U rackmount LCD panel displays offering two 24-inch TFT LCD displays with per panel resolution of 1920 x 1200, 1000:1 contrast ratio and 4 ms response time.
The 37-pound BFX1-24 is ideal for deployable transit case integration where both image quality and display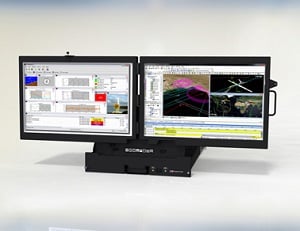 Source: Chassis Planstoughness are required. Both displays in the BFX are offered with bonded cover glass with anti-reflection and EMI surface treatments for MIL-STD-461G certification. The BFX1-241 model is optimized for reliable operation in extreme outdoor and challenging environments and can operate in widely varied temperatures (0 degrees C to 50 degrees C/minus 25 degrees C to 60 degrees C).
The BFX displays support a wide range of video resolutions — from 640 x 480 all the way up to 1920 x 1200; video inputs include VGA, DVI dual link, HDMI, DVI-D and NTSC/PAL/SECAM video as well as composite video and S-video.
Other functions and options include up to 10 bits per color, 16.7 million colors, on screen display (OSD) menu, image scaling: up scaling to fit input to panel resolution. Image control features include auto configuration, brightness, contrast, clock, phase, color temperature, image position, saturation, hue and gamma.
Additional features: system information, OSD position, scaling to fill screen and fill to aspect ratio, OSD timeout, factory reset, OSD menu transparency, horizontal and vertical image inversion, picture in picture, picture by picture variable positions, RS-232 or Ethernet command and control.
In addition to its outstanding video performance, the BFX displays include two integrated, water resistant speakers. Chassis Plans' BFX displays can operate on a range of power sources — including universal input 85 to 245 VAC MIL-STD-1275/704 28 VDC, with options for 12VDC and 400Hz AC input as well.