Adhesives play a critical role in the success of a medical device, whether it's holding the device together or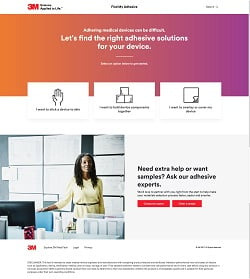 Source: 3Magainst the wearer's skin. But with so many adhesive products available, it can be a challenge for design engineers to know which one is right for their project. To help bridge this critical gap, 3M now offers a Find My Adhesive product selector tool to help make medical adhesive selection a simpler process. The product selector tool will be demonstrated at CES 2018 in Las Vegas, Nevada, from January 9-12, 2018, in the 3M booth located in Sands, Halls A-D; 43517 Health & Wellness Marketplace.
Find My Adhesive is an online tool that uses a series of project-specific questions to identify a list of the most appropriate medical adhesive suggestions. Each question is centered on an important consideration, such as the adhesive's purpose and needs, such as wear time, the material needed to stick to and intended user, which works to narrow down the adhesives recommended for use. The complimentary resource does not require an account to access. If projects require extra assistance and feedback, users can contact a 3M medical adhesives expert directly through the site.