The ability of a miniature satellite, assembled from six standard 10 cm CubeSat units, to change orbit will be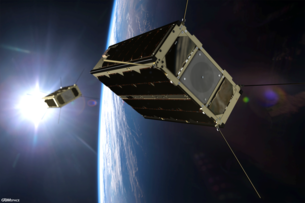 The GomX-4 pair. Source: GomSpaceevaluated by European Space Agency (ESA) engineers. The system will be launched with its counterpart from China on February 2. Powered by a butane-fueled thruster, the ESA GomX-4B radio communications satellite will fly around its near-twin to test their radio communications.
The radio link will be evaluated at varying distances, routing data from one satellite to the other, then down to the ground. GomX-4A, from the Danish Ministry of Defence, will remain in position while ESA's GomX-4B maneuvers up to 4,500 km away.
The fuel is stored under pressure and released through a tiny rocket nozzle. The storage system is likened to a cigarette lighter, allowing it to carry as many butane molecules as possible in the small available volume.
The thrusters supplied by Swedish firm NanoSpace will enable the satellite to adjust its motion by a total of 15 m/s — a speed equivalent to a kicked football. Each provides 1 millinewton, sufficient to move the 8 kg satellite over time. The chamber, nozzle and other elements are fitted into a 1 x 2 cm chip, just 1 mm thick.
NanoSpace plans to demonstrate different operating methods during the GomX-4B mission, including long, short and pulsing kinds of burns.