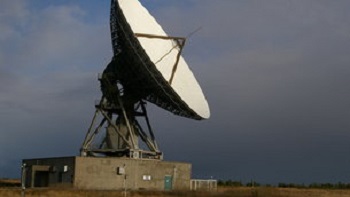 The Goonhilly antenna. Source: ESA
Three deep-space dishes in Australia, Spain and Argentina now provide leading-edge performance and full-sky coverage for mission tracking and communications for the European Space Agency (ESA). Data congestion is becoming an issue due to the growing number of ESA and commercial projects. ESA alone plans to add the new BepiColombo mission to Mercury later this year and, in the near future, ESA's Solar Orbiter, Euclid and Cheops.
The first step in solving this problem is being taken at the Goonhilly Earth Station, the primary telecommunications ground station in the UK. Goonhilly was the site of the world's first transatlantic television transmission in July 1962 when a live television signal was transmitted between the U.S. and Europe via the Telstar satellite.
Under the project to provide Europe's first deep-space tracking services on a commercial basis, a 32-m diameter dish built in 1985 will be upgraded to provide fast data links for missions far beyond Earth — typically exceeding 2 million km. Test links will be made with ESA missions such as Mars Express, and the system will be available to provide deep-space tracking for other space agencies or private space start-ups.