The European Space Agency (ESA) is considering several concepts for High Altitude Pseudo Satellites (HAPS),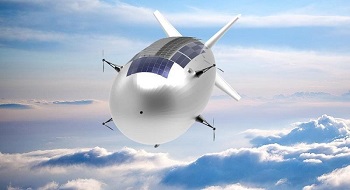 The blimp-like Stratobus concept developed by Thales Alenia Space. A test flight is expected to take place in 2021. Source: Thales Alenia Space/Briot via ESA platforms that fly in the upper atmosphere for long periods of time. The aerial vehicle designs, viewed as a "missing link" between drones and satellites, could be used to provide high-resolution coverage in highly populated or difficult-to-reach areas, cover blind spots in satellite coverage, or improve signal delay times for wide bandwidth communications.
At an altitude of 20 km, which is 10 km above commercial air traffic, HAPS can survey the ground to the horizon 500 km away, variously enabling precise monitoring and surveillance or back up to existing satellite navigation services.
Several ESA directorates have teamed up to investigate their potential, explains future-systems specialist Antonio Ciccolella: "For Earth observation, they could provide prolonged high-resolution coverage for priority regions, while for navigation and telecoms they could shrink blind spots in coverage and combine wide bandwidth with negligible signal delay."
"ESA is looking into how these various domains can be best brought together," Ciccolella said.
Navigation engineer Roberto Prieto Cerdeira adds, "There's obvious potential for emergency response. They could also be employed semi-permanently, perhaps extending satnav coverage into high, narrow valleys and cities."
Airbus has already developed the winged, solar-powered Zephyr, which in 2010 achieved a world record 14 days of continuous flight without refueling. Zephyr-S is designed to fly payloads of a few tens of kilograms for up to three months at a time, with secondary batteries employed to keep it powered and aloft overnight. A larger Zephyr-T version in preparation will support larger payloads and power needs.
Thales Alenia Space is developing the lighter-than-air Stratobus, with its first flight expected in 2021. This airship can carry up to 250 kg, its electric engines flying against the breeze to hold itself in position, relying on fuel cells at night.