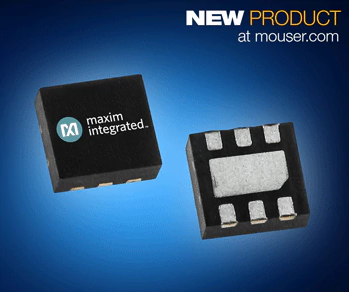 Source: Mouser
Mouser Electronics is now stocking the DES28E38 DeepCover® secure ECDSA authenticator from Maxim Integrated.
The DS28E38 is designed to protect devices against security attacks. The device is an Elliptic Curve Digital Signature Algorithm (ECDSA) public key-based patented ChipDNA™ physically unclonable function (PUF) technology.
The Maxim DS28E38 DeepCover secure ECDSA authenticator is the first secure authenticator to integrate the Maxim ChipDNA capability to protect all device stored data from invasive discovery. ChipDNA technology involves a PUF that enables the DS28E38 to deliver cost-effective protection against physical attacks. Attempts to prove or observe the operation of the ChipDNA modifies the underlying circuit characteristics, which prevents discovery of the unique value used by the chip cryptographic functions.
With ChipDNA capability, the device provides a core set of cryptographic tools derived from integrated blocks, including an asymmetric hardware engine, a FIPS/NIST-compliant true random number generator, 2 Kbits of securities EEPROM and a decrement-only counter. The device offers a unique 64-bit ROM identification number that is used as a fundamental input parameter for cryptographic operations and serves as an electronic serial number within the application.
The DS28E38 communicates over the single-contact 1-Wire® bus at standard and overdrive speeds. The communication follows the 1-Wire protocol with the ROM ID acts as a node address in the case of a multi-device 1-Wire network. The DS28E38 is supported by an accompanying evaluation system that demonstrated the features of five DS28E38 authenticators and five DS2476 DeepCover secure coprocessors.
The DS28E38 secure ECDSA authenticator enables engineers to add an extra layer of protection to applications such as internet of things (IoT) nodes, device management, secure peripherals and medical sensors.
To learn more about this, visit Mouser.