The ringing you may have in your ears could soon be silenced by a new device that targets hyperactive nerve cells responsible for tinnitus. The device uses precisely timed sounds and weak electrical pulses that activate touch-sensitive nerves, aimed to steer damaged nerve cells back to normal activity.
Human participants reported that after four weeks of daily use of the device, the loudness of phantom sounds decreased and their tinnitus-related quality of life improved. A control treatment using just sounds did not produce such effects. Results from tests in guinea pigs and a double-blind human study also validate years of preclinical research, including previous tests in guinea pigs.
The targeted bimodal auditory-somatosensory stimulation approach developed at the University of Michigan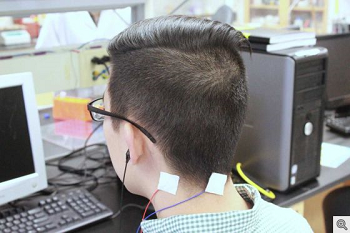 The device undergoing tests with a human subject. Image courtesy: Susan Shore involves two senses. A sound is delivered into the ears, alternating with precisely timed, mild electrical pulses delivered to the cheek or neck. These stimuli trigger a process called stimulus-timing dependent plasticity, or STDP, which was first explored in animals and led to long-term changes in the rate at which the nerves fire.
The treatment is designed to reset the activity of fusiform cells, which normally help our brains receive and process both sounds and sensations such as touch or vibration. Under normal conditions fusiform cells help our brains focus on where sounds are coming from and help us tune out sensations that result from the movement of our own head and neck.
Previous research with animals showed that loud noise can trigger a change in the nerve cells' activity—altering its timing so that they fire off synchronized signals spontaneously instead of waiting for an actual sound in the environment. After exposure to loud noises, head or neck trauma or other triggering events some people develop a persistent sensation that they're hearing sounds like ringing or a grinding noise.
As many as two million people in the U.S. can't work or carry out other daily activities because of the tinnitus itself or the psychological distress it causes them. Tinnitus is the most common cause of service-connected disability among veterans of the U.S. military.
For severe cases some patients turn to invasive and risky approaches such as deep brain stimulation and vagal nerve stimulation. The current approach provides a novel, non-invasive strategy to modulate and correct the aberrant neural pathways that cause tinnitus.
The researchers focused on a specific kind of tinnitus sufferer for their study: those who can temporarily alter their symptoms if they clench their jaws, stick out their tongues or turn or flex their necks. These maneuvers appear to be self-discovered ways of changing the activity of fusiform cells — providing an external somatosensory signal to modulate their tinnitus.
The new device delivers sounds matched to the loudness and pitch of the phantom sounds heard by each patient. It also delivers mild electrical impulses applied to the area of the head involved in the patients' own tinnitus-altering maneuvers.
After patients had the device calibrated to their own tinnitus symptoms, they learned to apply its earphones and electrodes for a 30-minute session each day. Half the group received the bimodal sound-and-electricity treatment for the first four weeks, while the other half received just sounds. They all then took a four-week break and started the next four weeks, receiving the opposite of what they'd received before. None of them knew which option they got first.
The loudness of phantom sounds decreased only after the actual, or bimodal, treatment, but not the control treatment of sound only. For some the decrease was around 12 decibels, about the magnitude of an electric light bulb's hum. Two participants said their tinnitus disappeared completely.
The research is published in the journal Science Translational Medicine.