Microchip has introduced a new Serial EEPROM. The new device utilizes a single-wire bus using only two pins to access the device: SI/O and GRN. The first pin, SI/O, is a line that combines power and data, providing the needed power to the device and the management of the data.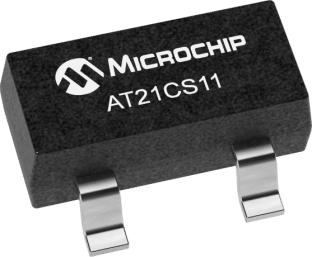 Source: Microchip
The AT21CS11 is organized as one block of 128 x 8, and it is optimized for use in reliable, non-volatile memory storage applications. The chip includes a preprogrammed unique serial number (ID) and a 128-bit user-programmable tracking number. The operating voltage range is 2.7 to 4.5V, making it suitable for use with lithium-ion batteries.
The AT21CS11 brings identification and tracking to any detachable, replaceable piece of a product. Cartridges, plastic disposables, user-specific attachments and others can communicate unique ID details and use information over a simple two-point clip or plug-in connection. In addition, Microchip's dedicated evaluation kit for the AT21CSxx single-wire family supports the new device
Some of the AT21CS11's important features include the following:
128 x 8 (1 Kbit)
Single-wire compatible

I²C protocol structure
Communication through a single I/O pin

High speed (125 kbps) mode
Self-rimed erase and write cycles (5 ms max.)
Low Power Consumption

Read current 0.08 mA (Typ), 0.3 mA (max)
Write current 0.2 mA (Typ), 0.5 mA (max)
Standby current 0.7 uA (Typ), 2.5 uA (max)

Software write protection

Four independent 256-bit zones

More than 1 million erase/write cycles
Data retention greater than 100 years
ESD protection greater than 8000V (HBM)
Factory programming available
Available in 8-pin SOIC (150 mil), 3-pin SOT23, 2-pad XSFN, and 4-ball Thin CSP packages.