Mouser Electronics, Inc. is now stocking the A1006 Secure Authenticator IC from NXP Semiconductors. The embedded security solution offers best-in-class, tamper-resistant authentication through an asymmetric public/private authentication protocol to help manufacturers prove the authenticity of genuine products and prevent damage from counterfeits. The A1006 device is the industry's smallest, lowest-power secure authenticator with an active power consumption of just 500μA in packages as small as 1 mm x 1 mm.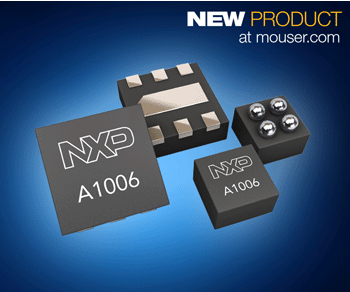 (Mouser Electronics)
The NXP A1006 Secure Authenticator provides a level of security while overcoming the challenges of performance, power consumption and solution footprint. The device's digitally signed certificates employ 224-bit ECDSA and SHA-224 digest hash and authentication is performed in fewer than 50 milliseconds.
The A1006 authenticator provides an effective option for device manufacturers, offering simple system integration and flexible architecture communications, with the choice of single-wire or I²C interface. Built-in NXP's secure manufacturing facilities, this authentication IC delivers protection against a wide range of invasive and non-invasive attacks. The device's security features include TRNG, security sensors and active shielding.
The A1006 Secure Authenticator IC is a security platform that is ideal for a broad range of hardware and software, including smartphones, chargers, printer cartridges, medical devices, electric vehicle chargers and embedded systems that require a strong security infrastructure.
To learn more about this new product, visit the Mouser site here.