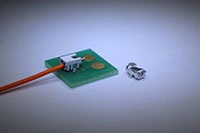 Source: Yokowo
A new Lead Socket Connector from Yokowo (Tokyo, Japan) enables easy one-action lead wire connection to a printed circuit board (PCB) for improved stability and decreased assembly time.
In the fast growing LED/lighting market, lead wire is a major component used in connecting a board to a lighting module. The conventional method of manually soldering the wire to a board presents limitations that result in a complicated assembly process and an unstable connection. Yokowo's new one-action Lead Socket Connector, however, eliminates wire soldering and allows users to easily plug the lead wire into the socket. A two-contact lock structure ensures a reliable connection.
The space-saving 2.6 mm (W) x 3.5 mm (L) x 2.1 mm (H) size makes Yokowo's Lead Socket Connector the smallest offered in its class. Available Yokowo models include an insulation cap type and a standard (terminal only) type.
Applications for the Lead Socket Connector include LED lighting, LCD television backlights, tablets, PCs and any device where a lead wire must be soldered onto a PCB.
Yokowo's Lead Socket Connector features one position, a 4A rated current, a 30mΩ maximum contact resistance, operating temperatures ranging from minus 40 degrees Celsius to 105 degrees Celsius, voltage of 12 V AC/DC and rated cycles of five times. It is compatible with AWG 22, 24 single/overcoat twisted wire. It is SMT specified and currently in production.