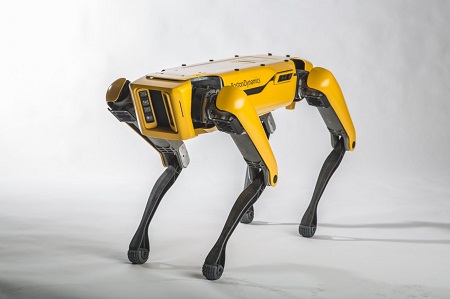 The new SpotMini. Image credit: Boston Dynamics.Earlier this week, Boston Dynamics posted a teaser video for its new robot dog, the SpotMini, on YouTube. As of this writing, the 24-second video has already received nearly 6 million views.
SpotMini is a small, four-legged robot that the company describes as fitting comfortably in an office or home. It weighs 25 kg (55 lb.). The adorable little guy is a new iteration of a robot introduced previously as the "little brother" of Spot -- a 300-percent heavier robot with a more mechanical appearance.
With a battery charge lasting about 90 minutes – depending on what it's doing – SpotMini is all-electric, with a sensor suite including stereo cameras, depth cameras, an inertial measurement unit (IMU) and position/force sensors in the limbs. Boston Dynamics says that it's the quietest robot they have built.
The company, which began as a spin-off from the Massachusetts Institute of Technology (MIT), got its start at the university developing robots that maneuvered like animals.