The CB912 VideoPaC from Aitech Defense Systems (Chatsworth, Calif.) combines two powerful processing boards and advanced software bundles into an integrated platform that provides exceptional graphics computing in a single-slot, SWaP-optimized rugged package.
The new PowerPC-based VideoPaC pairs a 3U VPX single-slot SBC (single board computer) with a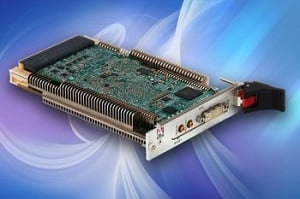 Source: Aitech Defense Systemsvideo/graphics XMC mezzanine that features the AMD E8860 Radeon graphics processing unit (GPU). This combination adds new dimensions to embedded data and graphics processing, such as offering an optional video imaging field-programmable gate array (FPGA) that provides video input interfaces and additional output interfaces not natively supported by the GPU.
To fully capitalize on the powerful processing of the hardware, integrated software bundles provide users with real-world solutions for their mission- and flight-safety-critical, DO178 Level A imaging, high-end graphics and data processing applications.
Software bundles include Wind River VxWorks and VxWorks A653, and GreenHills INTEGRITY and INTEGRITY-178 with tuMP (true multi-processing), coupled with CoreAVI's FACE-compliant, OpenGL SC (safety critical) or Richland Technologies' VIPUR/RTGL certifiable graphics/video software drivers.
The fully integrated and tested VideoPaC provides an improved heat dissipation solution for graphics-intensive display computing in harsh environments. Specific uses include glass cockpit displays and mission computers as well as situational awareness, C4ISR and EW systems.
In addition to the NXP T4-series with 4, 8 or 12 cores system on a chip (SoC) with AltiVec on the SBC and the XMC's AMD's Radeon E8860 GPU, the CB912 VideoPaC offers many other features, including both windowed and standard watchdog timers, a CyberSecure Boot and Trust Architecture, Intelligent Platform Management Interface (IPMI), and a real-time clock. VPX backplane interfaces include PCIe and XAUI fabric options. An elapsed time recorder, temperature sensors and eight counters/timers and two-level maintenance support round out the board assembly's internal resources.
The CB912 provides up to 4 gigabytes of DDR3L SDRAM with ECC and operates at 1,600 megatransfers per second, configured in dual channels. An optional 16-gigabyte SATA Flash disk, using SLC (single-level cell) Flash memory is available. Boot Flash of 128-megabyte NOR Flash is broken out into 64 megabytes for Boot and 64 megabytes available to the user. The 512-kilobyte high-speed MRAM offers unlimited writes and long term data retention.