Struggling Advanced Micro Devices Inc. has taken another step towards CPU ambivalence while embracing the x86 and ARM processing architectures with the announcement of a roadmap toward what it calls "ambidextrous computing."
The roadmap reveals a series of 64-bit processors for server, embedded and low-power client applications and has been billed by AMD as one of the ways in which the company is being transformed. The key part of the roadmap is that it supports both x86 and ARM cores as drop-in equivalents for SoCs with a common pin-out.
As part of that roadmap AMD is taking an ARMv8 architectural license that will allow it produce 64-bit ARM-compatible processor cores of its own design which should result in the 'K12' ARM-compatible core in 2016. AMD also revealed it is working on a 64-bit x86 core as an alternative to the K12.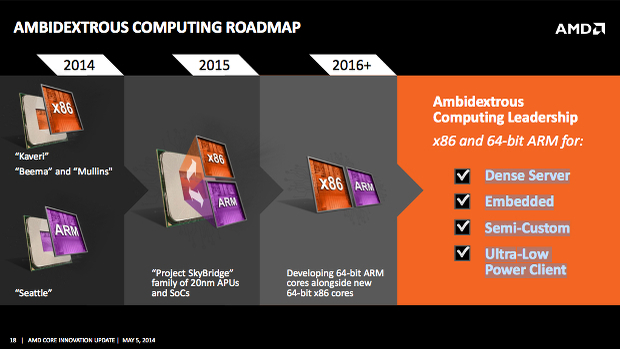 However, before that happens the Project Skybridge design framework is expected to produce in 2015 a family of 20nm processor ICs and system chips that will offer either x86 or ARM processing in the same pin-out. It seems likely that the K12 generation cores will then be aimed at 16nm/14nm FinFET manufacturing process.
One way of looking at Project Skybridge is that it changes the processor core from being the irreplaceable keystone of an IC design to being an easily replaceable building block that can be swapped in or out. There is also the implication that rather than designing around the CPU and making the on-chip network and peripherals fit there will be a common family of peripheral IP and on-chip ecosystem that x86 or ARM cores must be designed to work with.
The initial 20nm node 64-bit variant of Skybridge will be based on the Cortex-A57 core and is AMD's first heterogeneous system architecture platform for Android. The x86 version of Skybridge will feature Puma+ x86 cores. The Skybridge family will feature AMD's "Graphics Core Next" graphics, which has the ability to be programmed for general-purpose GPU compute. The Skybridge designs will also include a dedicated security processor, AMD said.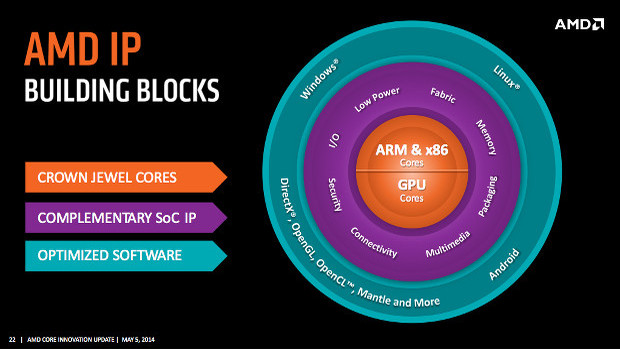 AMD said it plans to release its first custom 64-bit ARMv8 CPU core based on an ARM architecture license in 2016. Jim Keller is leading the team designing the K12 generation ARM core. Keller moved from Apple to AMD as chief architect for microprocessor cores reporting to CTO Mark Papermaster, in mid 2012. Keller designed several mobile processors for Apple. And prior to his first employment at AMD was a consulting engineer with Digital Equipment Corp. where he architected two generations of Alpha processors.
And in the near term AMD made the first public demonstration of its "Seattle" 64-bit processor, which is based on 8 Cortex-A57 64-bit ARM cores and is aimed at the nascent ARM server market.
There is no indication that AMD plans to support ARM and x86 cores on the same chip and given the additional complexity in virtualization and compilation that would require there would seem to be few use cases that could benefit. However, it would be theoretically be possible.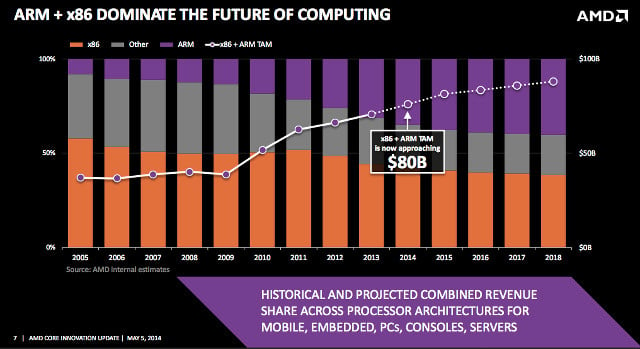 AMD's projection for processor chips across all applications shows x86 and ARM coming to take about 40 percent each. By supporting both processor architectures in a single design platform and family architecture the company can address an $80 billion market and can win if either architecture wins out over the other.
AMD talks about Project Skybridge as being transformational but there remains concern that the company may struggle to survive long enough to see the fruit of its radical moves towards heterogeneous systems architecture. AMD made a net loss of $20 million on sales revenue of $1.40 billion in the first quarter of 2014.
Related links and articles:
News articles:
Samsung, Globalfoundries Form 14nm Alliance to Fight TSMC
AMD Launches 'Seattle' 64-bit ARM Server Processor