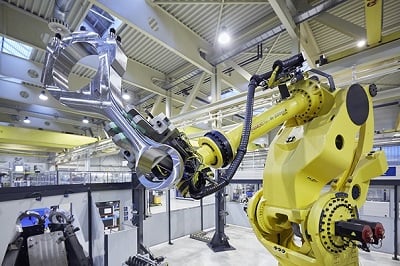 Source: GE Power
Aside from research by NASA, who is investigating the feasibility of harnessing energy from antimatter reactions, powering a robot on the scale of science fictional characters like the Iron Giant or Voltron is nearly impossible. Doubling the size of the robot increases its weight tenfold and even the power requirements for today's giant robot, a six-axis industrial robot with a massive reach of just over 15 feet, surpasses the capabilities of traditional power sources.
Robotic Power Sources
In the field of robotics, the power source is one of the most critical components. It dictates the robots runtime and capacity. For those reasons, it is one of the first design considerations when building a robot and there is a host of options to choose from, including everything from coin cell batteries for miniature toy robots to battery packs, power inverters, and in the case of a giant robot, a hard-wired three-phase power source.
The traditional method of powering a robot is to outfit the robot with a battery that meets space constraints and load requirements. Both primary and secondary batteries are used. Disposable batteries typically offer more power for their size and are thus desirable for certain applications. The improved performance and shelf life of lithium batteries have gained wide appeal, and while a lithium battery bank or even a lead-acid battery bank can be scaled to meet most robotic applications, they fail to provide ample runtime in the most demanding environments.
In the field of welding robotics, the same power source that feeds the welder can also be used to power the robot's electronic drives and motion control components. Lincoln Electric designed their Power Wave® inverter power sources specifically for robotic welding stations. With complex, high speed and high-performance waveform control, their inverter power sources are the ideal solution for advanced process robotic welding of thick materials as well as for precise joining of high-grade aluminum structures. They also offer the capability of supporting a diverse range of welding techniques including fluxed-core wire feed, tungsten inert gas and metal inert gas welding.
The excessive power requirements of a giant robot rivals, and in some cases exceeds, that of a robotic welding station. To power robots weighing several tons, like those built by MegaBots Inc. and Suidobashi Heavy Industry for the world's first giant robot duel, engineers relied on diesel-powered engines and high-performance gasoline engines. Inverters feed off of the onboard power source to drive advanced hydraulic systems and in the industrial sector, the solution isn't much different.
Goliath the Giant Non-Fictional Robot
The concept of a giant robot is typically met with criticism as most functional requirements can be met by one or several smaller robots with much lower power consumption. GE´s FANUC M2000 900l, aka Goliath, was designed with a specific task in mind and to deliver swift control of massive components. To accomplish this, it needs a massive power source.
Goliath is a six-axis industrial robot designed to gently lift and place tremendously heavy cylinder heads and connecting rods. The gentle giant has a reach greater than 15 feet and can serve oversized parts that weigh over a half ton for up to three milling machines. In this case, scaling the size of the robot was the ideal solution for the manufacturing plant in Jenbach, Austria, where they are producing high-tech gas engines with a power range of 100 kilowatts to 10 megawatts.
Goliath is powered by a 380 to 575 VAC three-phase 50- or 60-hertz hardwired connection. Its power requirements rival those of Lincoln Electrics largest robotic welding stations. The trend for these next-generation giant robots is to abandon traditional power sources like the battery pack and utilize dedicated diesel generators and hardwired three-phase grid connections.
Resources:
GE´S GENTLE GIANT ROBOTS: Helping Create Cleaner Power for Humans