In addition to playing videos and music, Blu-ray systems might play a role in medical diagnostics. Purdue University researchers are exploring the use of the high-definition technology for detection of early-stage cancers and to monitor treatment.
State and federal grants will enable university start-up Cytomics Analytical LLC to develop a low-cost diagnosis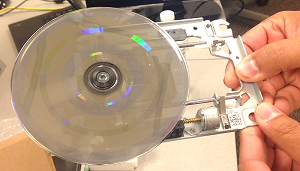 This is a specially designed disc on the disc read movement from a standard Blu-ray reader. A special layer on the top creates a network of microgrooves below where the liquid sample is measured. Source: Purdue Universityplatform — labeled MY-Blu — based on high-resolution measuring devices in Blu-ray to find nanoparticles released in blood in the early stages of cancer, as well as from many syndromes. Blu-ray technology has shown promise in detecting particles that are 10 to 20 nanometers.
"Cancer cells break down when they are attacked by the immune system and release these microparticles. But we can't see them unless we use very expensive equipment, like an electron microscope, and it takes a lot of time," said J. Paul Robinson, the SVM Professor of Cytomics in Purdue's College of Veterinary Medicine and professor in Purdue's Weldon School of Biomedical Engineering. "If those microparticles are important, we ought to be able to find and identify them very quickly. We believe our modifications to Blu-ray technology will allow us to achieve this."
Microparticles are difficult to detect with available technology because they are too small to reflect light. The researchers plan to repurpose Blu-ray optical disc data storage units for this application by adapting the systems to detect fluorescent molecules attached to the nanoparticles. A sensor has been designed to accurately measure signals from a particle just 10 billionths of a meter in size.
The cost of the Optical Phase Detection system devised by the researchers will be low since Blu-ray devices are already mass produced.