Contract Design and Manufacturing Services
Cutting Cards, Invitations and More With Your Laser
03 November 2017
Sponsored content
Lasers are exceptionally versatile production tools, capable of cutting and engraving a wide variety of materials — woods, fabrics, plastics, glass and more. Also on the rise is their popularity for use with materials such as paper and cardstock.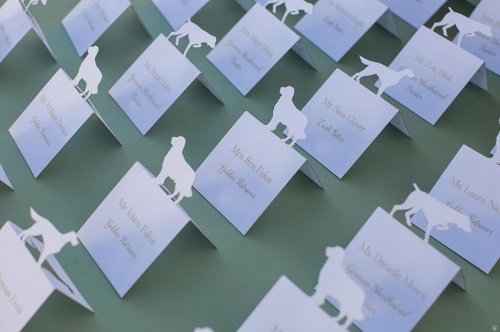 Figure 1: Platypus Papers used laser cutting and engraving to create the shapes and text design of these place cards; no ink was used. Source: Kristina Lynn PhotographyA paper laser cutter can produce a level of intricacy and detail far beyond traditional paper-cutting tools — making it ideally suited to produce one-of-a-kind cards, invitations, decorations and much more. The possibilities are limited only by one's imagination.
Custom Creations
Some examples of incredibly detailed pop-up greeting cards produced by the Epilog Zing 16 laser system can be seen on the website for Vietnam Handicrafts, based in Hanoi. Thanks to an investment in the affordable and user-friendly Epilog system, the business was able to make the switch from selling third-party products to creating and producing original designs of its own.
Another company that has built a large portion of its worldwide business around an Epilog system is Platypus Papers, based near Boulder, Colorado. Run by husband-and-wife team Joel and Laney Hall, the business specializes in custom paper creations for weddings and other events. They have used their Epilog Mini 24 laser system to create table numbers, cake toppers, name plates, signage and more.
Getting Started
The couple got their first experience working with lasers at a local Maker space. "We signed up for a class and took it, and then we're like, 'We're buying a laser!'" says Joel. "We played with it once and we saw the potential and decided that we needed to have one," adds Laney.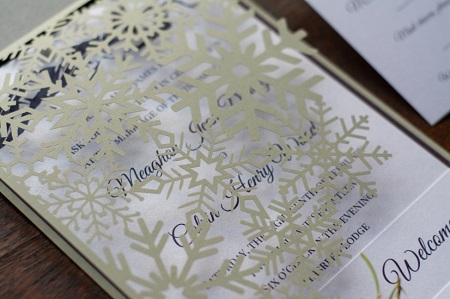 Figure 2: This winter-themed invitation suite from Platypus Papers features a laser-cut snowflake wrap complementing laser-cut and engraved place cards. Source: Season HurdProximity was a factor for their choice of Epilog — as a Made-in-the-USA, Colorado-based business, Epilog headquarters is only about 30 miles away. Joel, who has also become very familiar with the inexpensive, foreign-made version owned by the Maker space, is very happy with the decision. "It's night and day," he says. "If you want to start out being professional from the beginning, Epilog is one of the best ways to go."
Thinking Outside the Box
"We want to be accessible to our clients, and we like to do things that are creative and outside of the box," says Laney. "We really want to try to make something that their guests will open and say, 'Wow, I've never seen that before.'"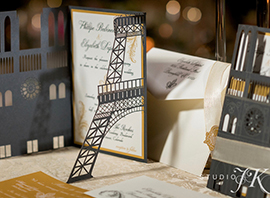 Figure 3: Platypus Papers used their Epilog laser for cutting and engraving intricate details into this Paris-themed wedding invitation. Source: Studio JKTo get beyond the rectangular confines of paper, she adds, stationers typically use metal die cuts. The Epilog laser system can do the same, but with a much higher level of detail. As a result, it greatly expands Platypus Papers' ability to cater to customer desires. "It adds another dimension of what you can do," says Joel. Oftentimes, adds Laney, this comes as a surprise to clients, who don't always understand how broad the range can be. "When you tell people you can make anything, the first question they ask is, 'Can you make a circle?'" she laughs. "So usually we answer with, 'We can make a fleur-de-lis.'"
In addition to standard paper and cardstock, Platypus has used their laser on a wide variety of materials – including specialty cotton paper imported from India, edible paper, various types of wood and much more. Joel notes that wedding place cards are often made from calligraphy done on agate, a common geode stone. While traditional marking methods can be subject to smudging or rubbing off, using the laser to engrave stone imparts a permanence that turns the piece into a wedding keepsake for guests. "And it's super cool," they both add.
Learning More
Describing themselves as "pro-education," Joel and Laney also work with other stationers to teach them how to design for the laser; Joel also offers support to like-minded Makers on the community area of Epilog's Facebook page. They also work to educate their customers on cost, and describe themselves as a very affordable custom shop. "You're spending a little bit more, but it's going to be something that's totally yours," says Joel. "No one else is ever going to have it." He adds that, when going custom, much of the cost lies in the design — not the production. The laser is an affordable and versatile tool that has grown the businesses of many stationers and other artists who work in paper.
To learn more, visit epiloglaser.com. A vast library of resources and support is contained on the website. Epilog can also set up demonstrations, send a brochure with cut and engraved samples and test materials to ensure compatibility with its line of laser systems.
For more specific information on Epilog's laser cut paper projects, click here.
Find Free Electronics Datasheets