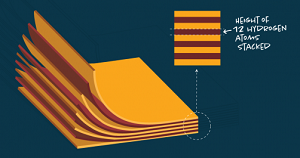 Individual tiny films, each just a few atoms high, can be assembled and stacked for new kinds of electronics. Source: Luis Ibarra/University of Chicago CreativeThe ability to design integrated circuits that can operate independently has been constrained by the use of bulky substrate platforms. To overcome this, University of Chicago researchers applied the principles of origami to atomically thin materials, forming large-scale integrated circuits that can be stitched together laterally to produce a 2D module.
The technology also supports the integration of different thermal and electric properties in the same circuit to expand functionality. The research, which has led to improvements in 2D models and the introduction of a 3D vertically integrated device, is being presented at the AVS 64th International Symposium & Exhibition, being held Oct. 29 to Nov. 3, 2017, in Tampa, Fla.
"For our research, we first generate atomically thin paper with different color[s] representing different electrical, optical, or thermal properties," said researcher Jiwoong Park. "We combine them in the lateral direction, equivalent to stitching. We stack them on top of one another, which is vertical integration. By doing so we are trying to develop large scale, fully functioning integrated circuits using these atomically thin materials as 2-D building blocks or color paper."
The smaller circuits realized with ultra-thin materials are neither microscopic in size nor difficult to manipulate. The 2D components can be seen with a simple optical microscope, or even with the naked eye, and can be handled accordingly.
The researchers suggest that integrated circuits would be able to contain a large surface area in a relatively condensed volume. Functionality in this context could be applied to a diverse set of new devices using the capabilities of condensed circuitry.
"What we are interested in developing is this mechanism of taking all these surfaces and device elements and folding them into tight spaces. Upon our cue, we want them to deploy to really large functioning surfaces," Park said.