Two dimensional materials like graphene, sometimes called single-layer materials, have become the focus of extensive research due to their astonishing chemical and physical properties. In particular, the scientific community is leveraging their magnetic, optical, electronic and mechanical properties to create new applications in the areas of electronics, optoelectronics and spintronics. The research has been slow because of the inability to accurately measure these properties in order to design new materials that would be appropriate for electronic gadgets.
By stacking multiple layers of 2-D materials—arrangements known as heterostructures—it is possible to create new materials with new properties. In particular, this arrangement is being used to create very fast optoelectronics devices that can be incorporated into nano-circuits. The biggest challenge so far for using heterostructures is the difficulty we have had measuring the electronic structures and properties of interlayer electronic excitation, so we can optimize the structure to produce optimal devices.
The riddle was solved last week by a team of researchers at the University of Warwick in Coventry, England, working with colleagues from Italy and the United States. For the first time, Dr. Neil Wilson, from the Department of Physics developed a new method to measure the electrical properties of each layer in the structure, so we can determine the optimal structure for particular devices. The technique is based on measuring the momentum of electrons in each layer by using the photoelectric effect. Dr. Wilson found that the value of the electron momentum is directly related to the number of layers and to the arrangement of these layers.
"It is extremely exciting to be able to see, for the first time, how interactions between atomically thin layers change their electronic structure. This work also demonstrates the importance of an international approach to research; we would not have been able to achieve this outcome without our colleagues in the USA and Italy."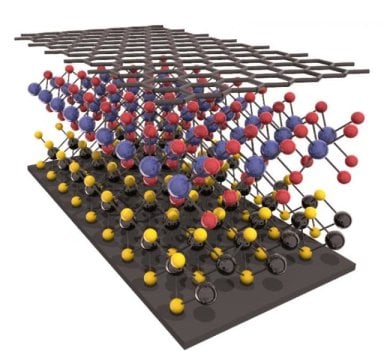 A depiction of a heterostructure of two-dimensional "wonder" materials. Credit: Gabriel Constantinescu The results of this research will allow us to understand and to quantify how these heterostructures work to create optimal structures for the fabrication of nano-devices and to create smaller and more flexible wearable circuits. Solar power can be enhanced with heterostructures because these thin layers are perfect for stronger light absorption and conversion.
The research report was published in Science Advances, and can be found here: http://advances.sciencemag.org/content/3/2/e1601832