Smartphone user demands have exploded, driven partly by the growing popularity of social media applications, increased data uploading/downloading and other data-intensive processes. Monthly global mobile data traffic will be 49 exabytes by 2021, and annual traffic will exceed half a zettabyte. More bands are emerging across the global Wi-Fi spectrum as the evolution from LTE to 5G leads to a challenging RF front-end (RFFE) design environment.
The RFFE is the functional area of a mobile handset between the RF transceiver and the antenna, incorporating power amplifiers, low noise amplifiers, switches, duplexers, filters and other passive devices. Without an adequate RFFE, a smartphone wouldn't be able to connect to mobile networks—underscoring the importance of a properly designed RFFE to phone performance and design.
Engineers are pursuing a combination of techniques to increase the performance of 4G networks, with a target of delivering 1 Gbps to advanced handsets: advanced carrier aggregation, LTE over unlicensed spectrum, higher-order modulation and 4×4 multiple-input, multiple-output.
Each of these approaches adds RF complexity to handsets, and smartphone manufacturers will need to support all four to deliver 1 Gbps data rates. Adding to the challenges, manufacturers need to squeeze this added complexity into the relatively fixed space allocated to the RFFE. Power management in the RFFE is also becoming more of a priority as manufacturers seek to maximize battery life and support a new higher-power LTE standard.
A complimentary downloadable calculator from Qorvo, a provider of innovative RF solutions, supports a range of RF matching tasks. Qorvo MatchCalc™ allows RF engineers to quickly match their system designs without being connected to complex simulation programs, speeding the design process and reducing the time to get new products to market.
New additions to the RFFE portfolio of Qualcomm Technologies Inc. are designed to provide support for devices operating in the 600 MHz spectrum. OEMs can take advantage of the offerings to rapidly build mobile devices compatible with new operator deployments of Band 71, a 600 MHz. This prime spectrum brings greater capacity to mobile operators' networks, in addition to enhanced outdoor coverage and indoor penetration.
With the advent of 5G as the next wave of connectivity technology, these and other design advances will be of crucial importance in addressing evolving RFFE complexity.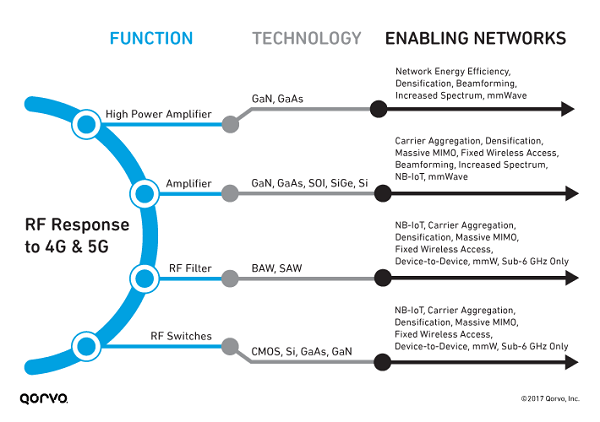 5G will overlay the 4G LTE network in the coming years. The RF function, frequency band, power level and other performance requirements determine which semiconductor technology is the best fit. (Source: Qorvo Inc.)