Mouser Electronics Inc. is now stocking the MAX77734 power management IC (PMIC) from Maxim Integrated. The tiny, ultra-low-power PMIC helps designers of wearable and hearable products extend the lithium-ion battery life of designs.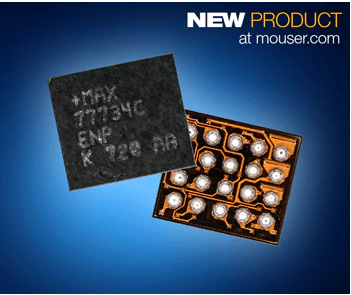 Source: Mouser
Maxim's MAX77734 PMIC offers a flexible and configurable power management solution in a compact chip. The size of the chip is 2.23 x 1.97 mm. The PMIC integrates a linear-mode lithium-ion battery charger, low-dropout (LDO) linear regulator, analog multiplexer and dual-channel current sink driver to reduce external component count when designing small battery-operated products.
The charger is designed for small-battery systems that require accurate termination as low as 0.375 mA. The charger's programmable battery regulation voltage range (3.6-4.6 V) supports a wide variety of cell chemistries. The circuit can instantly regulate the system voltage when an input source is connected even if the battery is depleted. The 150 mA LDO regulator's output is programmable between 0.8 and 3.975 V with I²C, and the analog multiplexer enables an external analog-to-digital converter (ADC) to perform conversions on battery voltage and current signals for power monitoring. The current sinks are capable of sinking 12.8 mA each and can be programmed for LEDs to blink in custom patterns.
The device offers a standby current of just 1.5 μA and a quiescent current of only 4.5 μA when the LDO regulator is enabled. The device's programmable options make them ideal for many battery-powered devices, like Bluetooth®-enabled headsets, fitness monitors, wearable cameras and the low-power internet of things (IoT) devices.
The MAX77734 PMIC is supported by the MAX77734 evaluation kit.
To learn more about this new power management, visit the Mouser site here.