A microscale microfluidic biological solar cell (micro-BSC) developed at Binghamton University, State University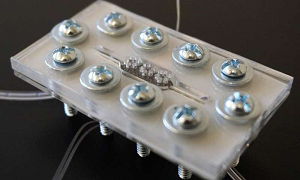 Miniaturized biological solar cell assembled micro-BSC device. Source: Seokheun Choiof New York attains high electrical power and long-term operational capability. The device can provide a practical, sustainable power supply for lab-on-a-chip point-of-care diagnostics in resource-limited areas.
The bio-solar cell generated the highest power density for longer than any existing cell of its kind.
"Micro-BSCs can continuously generate electricity from microbial photosynthetic and respiratory activities over day-night cycles, offering a clean and renewable power source with self-sustaining potential," said Electrical and Computer Science Assistant Professor Seokheun Choi. "However, the promise of this technology has not been translated into practical applications because of its relatively low power and current short lifetimes."
To achieve the high-performance, self-sustaining system, the researchers used a 3D biocompatible, conductive and porous anode. The device architecture demonstrated great microbial biofilm formation and a high rate of bacterial extracellular electron transfer, which led to greater power generation. Through photosynthetic reactions of acyanobacteria species, the 90-μL single-chambered bio-solar cell generated a maximum power density of 43.8 μW cm−2 and sustained consistent power production of ∼18.6 μW cm−2 during the day and ∼11.4 μW cm−2 at night for 20 days.