While there have been many attempts at converting human waste into power, a team of researchers from the University of Bath have now developed an affordable, renewable and carbon-neutral option that is pretty inexpensive.
The team's miniature fuel cell can generate electricity from urine—and it costs just under $3 to make.
In the near future this alternative device could provide electricity to remote areas of the world at very little cost.
"Renewable 'pee-power' is a brilliant idea and its use in developing countries will have huge positive impact on people's lives in areas of energy poverty," said Dr. Tim Mays, Head of the Department of Chemical Engineering at the University of Bath.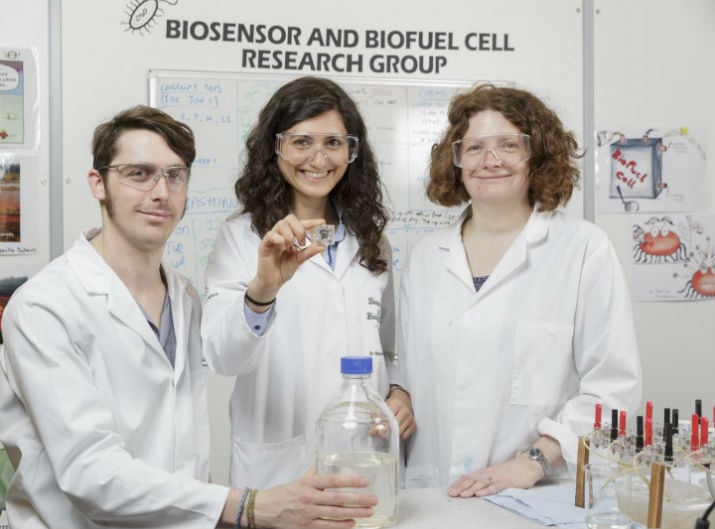 The researchers hold their device, which could potentially provide electricity to remote areas of the world at very little cost. (Image Credit: Tim Gander / University of Bath)A microbial fuel cell uses natural biological processes of "electric" bacteria to turn organic matter, in this case urine, into electricity. These fuel cells are efficient, inexpensive to run and produce nearly zero waste compared to other methods of electricity generation.
How it works
The mini microbial fuel cells work by sending urine through and processing the bacteria inside, which generates the electricity to directly power devices.
The device, just one square inch in size, uses a carbon catalyst at the cathode, which is derived from glucose and ovalbumin, a protein found in egg white. This catalyst is a renewable alternative that is much cheaper than platinum, which is commonly used in other microbial fuel cells.
By increasing the cell's electrodes from 4mm to 8mm, the power output was increased tenfold. The team also stacked multiple units together to proportionally increase the power.
Currently, a single microbial fuel cell can generate 2 watts per cubic meter—enough to charge a cellphone.
The technology may not be powerful enough to light up an entire home, but it is an inexpensive option, and uses an abundant resource (human urine).
Now that the fuel cell runs efficiently, the team wants to improve the power output by optimizing the cell's design.
"If we can harness the potential power of this human waste, we could revolutionize how electricity is generated," said Dr. Mirella Di Lorenzo, Lecturer in the University of Bath's Department of Chemical Engineering and corresponding author. "Microbial fuel cells can play an important role in addressing the triple challenge of finding solutions that support secure, affordable and environmentally sensitive energy, known as the 'energy trilemma.'"
While there is no single solution to energy issues in poverty-stricken areas, the team hopes the technology can transform the lives of those who do not have access to, or cannot afford, electricity.