Architecture IT startup "Archisketch" has launched the world's simplest interior design solution on Kickstarter. They reached the full funding goal of $30,000 in less than three hours. The Kickstarter is continuing to receive crowdfunding until December 1, 2017.
Archisketch allows ordinary people to become specialists in 3D interior design and home furnishing.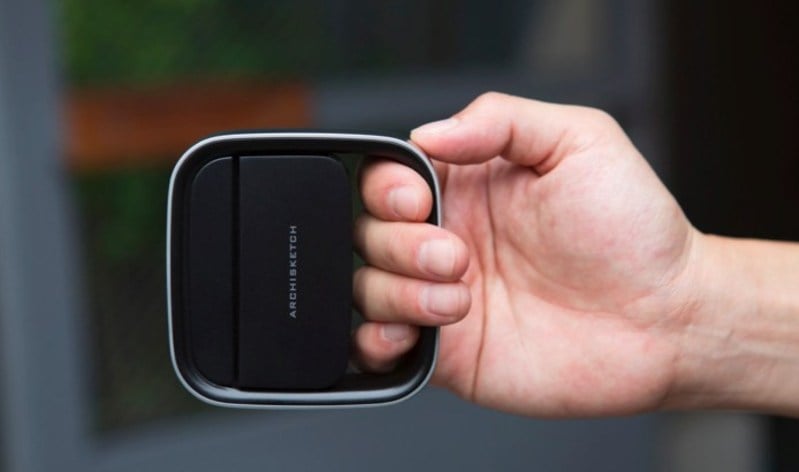 Archisketch, interior design portable solution had reached the full Kickstarter funding goal in three hours. (Archisketch)
At the core of Archisketch is a technology that captures space using AR and presents it in 3D/VR data. When a user captures the corner of a room the device automatically converts it to a 3D model. The user can then create various 3D images in real time by choosing and placing furniture, wallpaper and flooring materials according to the user's personal tastes. All furniture pieces stores in Archisketch's library have the same specifications and dimensions as the ones sold in stores. The app also links directly to the websites of furniture manufacturers, which allows users to make purchases easily and conveniently.
The device starts by connecting to the user's smartphone after the AR-enabled device's laser sensor activates, measuring the distance between the user and the walls of the room the user is standing in. It then generates a 3D image of the room.
The device saves time and money for people preparing to move and helps them design optimal spaces in their new home. Along with this, the device can be used in various B2B sectors, like interior design and real estate, anywhere in the world.
The Archisketch device will be displayed at the Samsung Developer Conference in the United States on October 18 and a startup booth at Web Summit 2017 in Lisbon, Portugal, on November 6.
To learn more about this device, visit the Archisketch site here.