Google has a new family. That is to say, a new family of consumer hardware products, all of which were announced yesterday, Oct. 4, 2017.
These include:
According to the New York Times, the Google announcement came with little time spent on product specifications. The real focus was on artificial intelligence. Company CEO Sundar Pichai referred to Google as an "AI first" company, saying that this was a time for "radically rethinking how computing should work."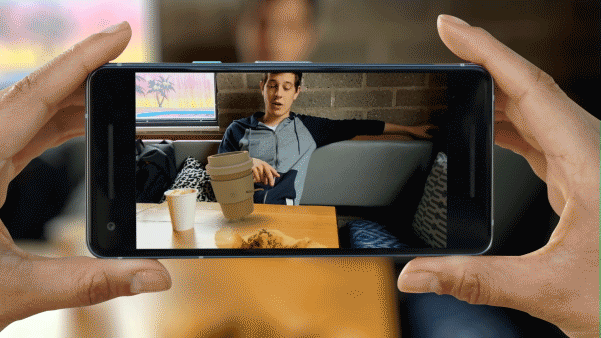 An example of alternative reality to come: AR Stickers allow users to express themselves with 'playful emoji.' Source: Google Inc.Along those lines, every hardware product has received an AI makeover — instant language-translation capability for the headphones, room-specific sound adjustment for the Max speaker, an image-recognition app called Lens for the smartphones that provides information about whatever's surrounding the user. Google Assistant also makes a strong showing throughout the new product line. The intelligent assistant can be accessed by a squeeze on the Pixel phones, thanks to a new feature called Active Edge; it can also be accessed by circling things on the Pixelbook screen with the Pixelbook Pen.
In a press release, Google noted that AI has already been transforming its products, including examples such as Google Maps analyzing your planned destination and offering alternative suggestions for parking if appropriate. More is coming down the pike for the new products as well. Augmented reality stickers will allow users to add animated emojis to messages, for instance. There will also be apps and experiences such as Houzz, that allow you to see how different furniture and accent pieces might fit into your existing space. And Google Assistant will be receiving updates to "routines" that allow a user to accomplish multiple tasks with a single phrase.
Current U.S. pricing on the new family of products is as follows:
Pixel 2 and Pixel 2 XL: $649 and up. Now available for pre-order.
Google Home Mini: $49. Now available for pre-order; available in stores starting Oct. 19.
Google Home Max: $399. Available for pre-order starting Nov. 13.
Pixelbook: $999 and up. The Pixelbook Pen is an additional $99. Now available for pre-order.
Pixel Buds: $159. Now available for pre-order; available in stores starting in November.
Daydream View: $99. Now available for pre-order.
Google Clips: $249. Coming soon.