LunaR is a watch with intelligent functionality and new solar technology that keeps it operating. Designers created LunaR with travelers, outdoor enthusiasts and watch lovers in mind. LunaR is a modern, self-sustaining and functional watch that keeps the user connected, informed and on time without having to plug in or replace the battery.
Along with solar panel charging, Lunar has many other intelligent features. This watch has dual time zones, activity tracking, phone notifications, sleep monitoring and daily alarms. Lunar is also SATM waterproof so users don't have to worry about it breaking if they get it wet, accidentally or on purpose.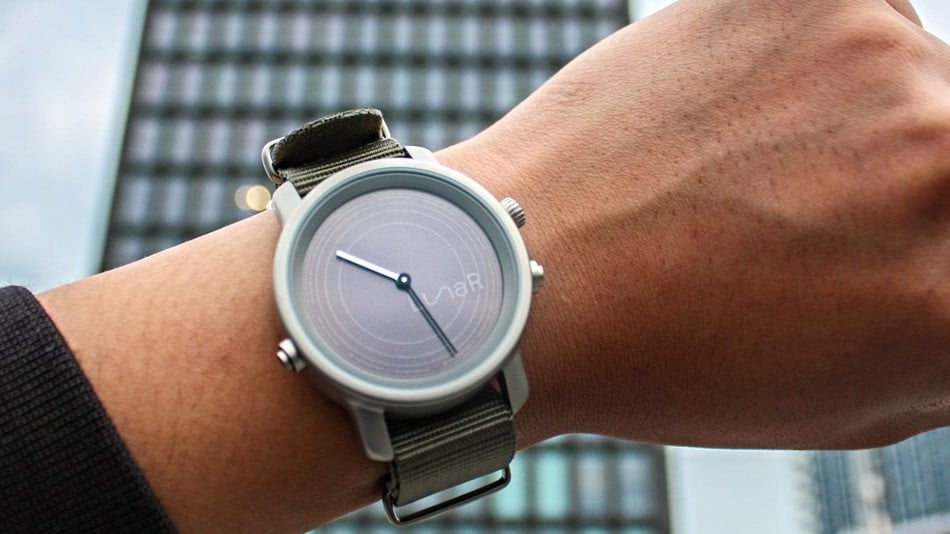 The first solar powered smart watch. Source: LunaR
The team behind LunaR made sure that the watch will still operate even inside. LunaR can charge with natural and artificial light. The watch only needs the daily exposure of 1 hour (>10k LUX) to harvest enough power to deliver infinite battery life. Users can check the watch's light-harvesting levels through the LunaR app.
LunaR's transparent solar panel was pioneered by Sunpartner, a solar technology company from France that coined WYSPIS® (What You See is Photovoltaic Surface). This technology harvests energy from many life sources while allowing for clear visibility through the panel. LunaR also has integrated sunrise and sunset technology with accurate data for your current location through the embedded LEDs and on the dashboard of the LunaR app.
The LunaR app doesn't just help your watch stay charged. Sun exposure is just as important for people as it is to your watch. Through the app, you can set your own daily sunshine exposure goals. You can also use the LunaR app to find your way if you're lost and without a GPS.
LunaR's embedded LED array and vibrations integrate with all your apps so it is easy to check your apps with at-a-glance notifications, so you can be connected while keeping your attention on the activity you have been doing.
The watch also has an accelerometer that feels your movements and provides feedback to make it easy to reach your goals. You can set a goal and check your process through the app or the LED dial technology on the watch. When you beat your goal for the day, LunaR will vibrate and provide an LED notification.
The LunaR watch straps come in 9 different colors to choose from. The straps are easy to switch out whenever you feel like changing up the look.
The Kickstarter ends on Oct. 24, 2017. Currently, they have $221,315 toward a $50,000 goal. To back LunaR and purchase your own watch, visit their Kickstarter.